Posts Tagged 'Toddlers and Tiaras ~ I hate it'
Thursday, February 16th, 2012
An obscene amount of tele­vi­sion view­ers from all over the world hud­dle in front of their enor­mous TV screens every Wednes­day night to tune into TLC's very pop­u­lar series called Tod­dlers and Tiaras. It is unbe­knownst to me as to actu­ally why this show is so pop­u­lar, but dif­fer­ent strokes for dif­fer­ent folks, right? My mind may not be think­ing clearly, but I can­not help but think of child pornog­ra­phy every time I flip through the chan­nels and see these very young girls being exposed to the world on national tele­vi­sion, right out there in front of the nation's most twisted pedophiles, and it hon­estly really sick­ens me!!
Does the above photo of a dear lit­tle inno­cent girl remind you of a china doll? Ya, It does me too. But this is an actual photo of an inno­cent lit­tle girl all done up, and actu­ally forced to grow up a lot sooner than she would care to do! These lit­tle girls are being stripped from their child­hood if you ask me, and these par­ents will do just about any­thing to ensure that their child wins the pageant! Why would any mother do that to her own daugh­ters?? I nor­mally don't crit­i­cize peo­ple on my blog, although I just couldn't help it this time. This to me is beyond wrong. It makes me so upset that we live in a soci­ety in which this is con­sid­ered to be good enter­tain­ment … or  even accept­able par­ent­ing! It looks more  to me like a bloody form of child abuse! I feel like view­ers of "Tod­dlers and Tiaras" are hon­estly watch­ing these lit­tle girls being warped and set up into need­ing count­less hours of ther­apy in order to func­tion in nor­mal soci­ety someday!!
I found this pic­ture on the web­site called Total Life Coun­sel­ing Cen­ter, and it sim­ply shows the extent of what these mother's and father's would actu­ally do to their pure beau­ti­ful lit­tle girls in high hopes of claw­ing for the mighty crown! They hit the nail right on the head here! This pic­ture sums it all up: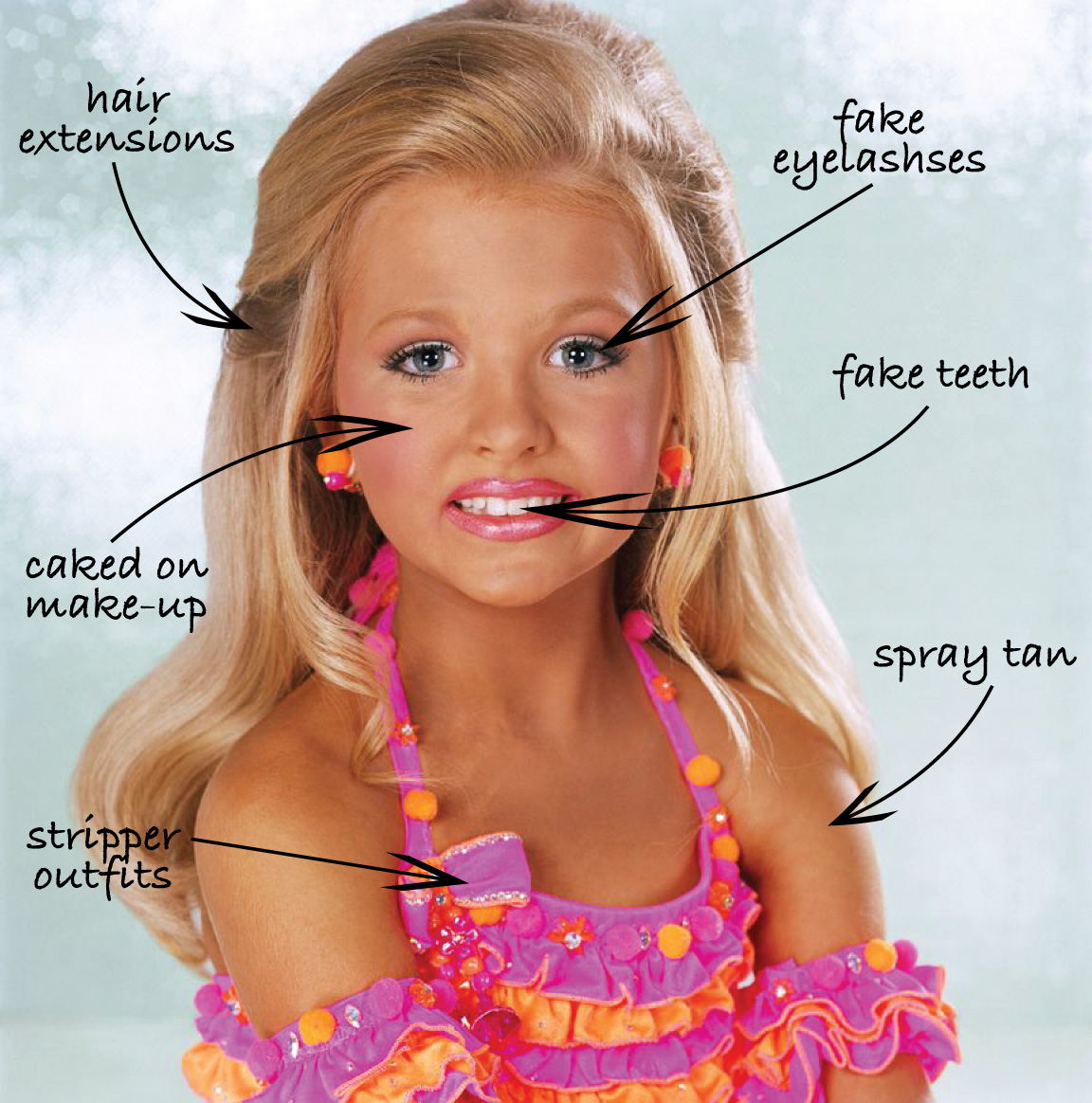 Deplorable!!
At such a young age, you really only know and truly believe what you are taught. Self-worth should not be tied to com­pe­ti­tions because chil­dren are unable to sep­a­rate the com­pe­ti­tion from real­ity, which can make par­tic­i­pa­tion even more dam­ag­ing to their self-esteem.
The part of this show that sick­ened me the most was how these par­ents are per­mit­ting … no, INSTRUCTING their kids to act like rag­ing wild ani­mals out of con­trol and not even car­ing where they are. Every one of those chil­dren (aside from the ones too young to talk yet) were self­ish, spoiled, and cruel beyond belief. They hollered com­mands and screamed at their par­ents. They threw fits if they didn't get their way. They were hate­ful to the other con­tes­tants, show­ing no desire at all to be friends. They were ALL (par­ents included) sore losers who called the judges 'idiots' if the results didn't go their way. One 8-year-old threat­ened to trash her hotel room if she didn't win. After all every lit­tle princess have dreams of being crowned a beauty queen! Is this what we rec­og­nize as BEAUTY in this world? Give me a break!!
I can hon­estly visu­al­ize dis­gust­ing pedophiles get­ting their jol­lies off of this show and I grow very sick to my stom­ach. I am also thank­ful though at the same time that my lit­tle nieces are not exposed to this type of crap!
These damn par­ents should be ashamed of them­selves, how­ever they seem to think that every­thing is alright, just a nor­mal and inno­cent every­day occur­ance in their lives.
It would be hard to believe if you have never even heard of this show, but here is a short clip of the show just in case you would like to know what I am talk­ing about, cour­tesy of YouTube:
These girls look like they are 35–40 year old women that have been pho­to­shopped to look more child­like and planted on chil­dren bod­ies rather than being actual chil­dren.  It feels like you can almost see aging lines on the cheeks that have been faded out and it is so weird!
I can't stand that show. Imag­ine the psy­cho­log­i­cal dam­age they are caus­ing by estab­lish­ing such a need for approval in that way?
One word: SICK!!
Tags: I hate it, Toddlers and Tiaras, Toddlers and Tiaras ~ I hate it
Posted in Free Coupons Canada Samples Canadian Free stuff | 7 Comments »