Posts Tagged 'The Gaga for Mama Shoppe at Double Up Books Review & Giveaway'
Sunday, March 28th, 2010
Find an exten­sive array of one­sies and baby­wear at The Gaga for Mama Shoppe at Dou­ble Up Books™
This Unique baby bou­tique fea­tures baby­wear that lets moms know how much she is loved!
You can find won­der­ful children's cloth­ing in both boys and girls, in sizes 0 all the way to 24 months!
Isn't that adorable??
Although a baby cer­tainly loves their mommy, mom's often find them­selves at the short end of the stick wait­ing hand and foot on their lit­tle one's, with­out even a sim­ple 'thank you mom'! Since these babies can­not sim­ply show their appre­ci­a­tion yet, let them say it with love printed on their very own onesie!
The Gaga for Mama Shoppe at Dou­ble Up Books™ kindly sent me to review — the most adorable lit­tle one­sie in Prescious Pink with match­ing pants that says "Mom, You Always Make It All Bet­ter" It is sooooooooooooooo sweet, so soft, and fits my baby girl perfectly!!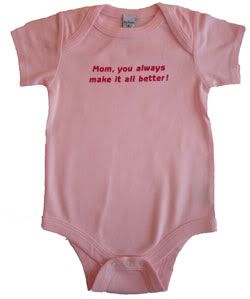 You can even find all dif­fer­ent colours and designs of pants, hats, bibs, and even gift sets —all at extremely low unbeat­able prices!!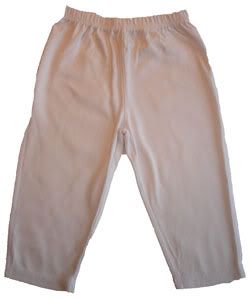 I give The Gaga for Mama Shoppe at Dou­ble Up Books™ a huge kudos for all of their won­der­ful children's clothing!!
The Gaga for Mama Shoppe at Dou­ble Up Books™ wants to give one lucky Cool­Canucks win­ner the chance to win a SWEET Prize from their online store! The prize includes a baby one­sie, match­ing pants and match­ing bib in any avail­able colour, size and design (winner's choice).
To Enter:
1) Visit The Gaga for Mama Shoppe at Dou­ble Up Books™ and tell me some­thing you would LOVE to have from their store!!
 2) You MUST ALSO SUBSCRIBE to Cool­Canucks Blog (right hand-side) via email! (You must ver­ify the sub­scrip­tion in your email too, as I will check! Not ver­i­fied = dis­qual­i­fi­ca­tion, sorry!) Leave me which email addy you sub­scribed with in your com­ment and SAY I SUBSCRIBED VIA EMAIL!
 
3)

And thirdly for any entries to count

, fol­low Cool­Canucks Via Google Friend Con­nect!! TELL ME THAT YOU FOLLOW COOLCANUCKS VIA GOOGLE FRIEND CONNECT IN A COMMENT! SORRY FOR THE CAPS, BUT ALOT OF PEOPLE DON'T KNOW HOW TO FOLLOW OR READ RULES AND I HAVE TO GET THEIR ATTENTION SOMEHOW!!!!!
******************If you don't do the top 3, then your com­ments will be DELETED, plain and simple************************************
 
————->The Above is MANDATORY before any extra entries count. <—————
EXTRA ENTRIES: (Optional, these are there for you just in case you would like more chances of winning!!)
 Fol­low @coolcanucks and @DoubleUpBooks on Twit­ter! Leave me your twit­ter name!
Tweet this con­test link­ing to @coolcanucks and @DoubleUpBooks Leave me the Sta­tus Link to your tweet! **NOW UNLIMITED TWEETS DAILY!!* and leave a com­ment each time with the Tweet Sta­tus Link**
 (Please note, there is a NEW Retweet but­ton added below this post – you may also use that for a quick and easy tweet – be sure to leave me the sta­tus link though!)
Become a Face­book Fan of The Gaga for Mama Shoppe at Dou­ble Up Books™ and tell them Cool­Canucks sent you on their wall!
Become a Reg­is­tered Cool­Canucks Mem­ber in our forum and leave me your user­name there!
Blog, Stum­ble, Digg or share this give­away on any open pub­lic forum and leave me the link to it! +5, leave 5 comments
Grab our Cool­Canucks but­ton located to the right of the blog. +5, leave 5 comments
 
Sub­scribe to Cool­Canucks RSS Feed! + 2 leave 2 comments
 
Refer a friend to Cool­Canucks Forum – do not sign your­self up and cheat, I can check IP's! Tell me who the refer­ral is, and earn 10 extra entries at once!
 
Pur­chase from The Gaga for Mama Shoppe at Dou­ble Up Books™ for the dura­tion of the give­away and get 10 extra entries!! Just tell me in a comment!
**Give­away open to both Canada & US and expires on May 5th, 2010**
A HUGE thank you to The Gaga for Mama Shoppe at Dou­ble Up Books™ for spon­sor­ing us with this GREAT Con­test here at CoolCanucks!!
Con­grats to #2
2
Karen thaeter
March 28th, 2010 at 8:11 pm 
I love the baby white one piece"mom I love you"
I sub­scribe and fol­low on google friends
rally_thade17@hotmail.com
Tags: baby boutique, babywear, canada, canada contest, canada contests, canadian contest, canadian contests, Canadian giveaways, canadian online contests, contest, contests, contests canada, CoolCanucks Blog Contest, CoolCanucks Blog Contest ~ The Gaga for Mama Shoppe at Double Up Books Review & Giveaway, coolcanucks giveaway, Double Up Books, enter, free canadian contests, free canadian giveaways, Gaga for Mama Shoppe, onesies, online canadian contests, The Gaga for Mama Shoppe at Double Up Books Review & Giveaway, win, win canadian contests, win canadian prizes, win prizes
Posted in Giveaways Canada | 122 Comments »