Posts Tagged 'Sears Certified Real Estate'
Friday, July 30th, 2010
With HST now fully put into action by the gov­ern­ment, one of the things that is get­ting a lot more expen­sive is real estate. All the ser­vices involved with buy­ing or sell­ing a home are now more expen­sive.
 
Con­sider this!  Sears is offer­ing a real estate pro­gram that can really help take the edge off the recent increase in taxes – Sears Cer­ti­fied Real Estate Ser­vices.  This pro­gram is a refer­ral ser­vice that con­nects you with qual­ity Real­tors and allows you to earn thou­sands of dol­lars in Sears Gift Cards (at no cost to you)!
 
Here's how the pro­gram works: you sign up on line or by phone, and if you're ready to start.  You will be intro­duced to a Real­tor before you know it.  These Real­tors are from brand bro­ker­ages, such as, RE/MAX, Sut­ton Group, Royal LeP­age, etc.  The Real­tor will help you with any ser­vices you would need in the buy­ing or sell­ing of your home, and after the prop­erty closes, you receive 0.6% of the property's value back in Sears Gift Cards. This 0.6% is a lot of money for some­thing you are going to do any­ways – for exam­ple a pur­chase price of $400,000, you will receive $2,400 in Gift Cards!
 
After all the expenses of mov­ing, the Sears Gift Cards can cer­tainly come in handy.  It can help replace those old appli­ances or buy some­thing spe­cial you always want to make your new house a home!  Not only do you get Sears Gift Cards, you will also receive a Home Sav­ing Book­let that gives you more sav­ings on pur­chases through­out the home!  The only catch is that you need to use their selected Real­tor to buy or sell. 
 
Take advan­tage of this offer­ing, it will help reduce the impact of the HST!  What are you wait­ing for, check out their web­site www.SearsRealEstate.ca, have some fun on the calculator!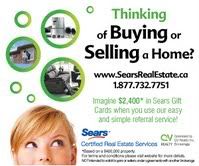 Tags: canada, canada deals, Canadian Deals, canadian savings, deals, hot canadian deals, hot deals canada, HST Savings, sears canada, Sears Canada Certified Real Estate Services, Sears Canada Certified Real Estate Services ~ Help take the edge off the recent increase in taxes, Sears Canada Real Estate, Sears Certified Real Estate, Sears Certified Real Estate Services, Sears Gift Cards, Sears Real Estate
Posted in Hot Deals Canada Canadian Bargains Sales Discounts | Comments Off