Posts Tagged 'reviews'
Tuesday, June 26th, 2012
I am always look­ing for won­der­ful, new prod­ucts to take care of every inch of my skin. I am so happy to share with you a great com­pany that I recently found online called Organ­o­derm. They carry a fan­tas­tic line of skin­care prod­ucts that are per­fect for every skin type and are organic to boot. They help you care for your skin with no wor­ries about harm­ful chem­i­cals that are in many non-organic prod­ucts out there. From cleanser, to eye gel, day creams, night cream and exfo­lia­tors, Organ­o­derm has you cov­ered. Their prod­ucts are for­mu­lated with cer­ti­fied organic and the most effi­ca­cious botan­i­cal bio-active ingre­di­ents that are the purest and gen­tlest skin per­fec­tors that nature has to offer.
Why Organ­o­derm
O organic, nat­ural bio-actives prod­ucts with out­stand­ing results
R recy­clable, envi­ron­men­tally con­scious packaging
G goal to give you the best skin possible
A aware­ness and respon­si­bil­ity for our planet is part of the company's philosophy
N nutri­tion for healthy, glow­ing skin 
O offer­ings for con­sumers that are exclu­sive to Organ­o­derm users
D dr. devel­oped, approved, and recommended
E edu­ca­tion on all aspects of using green prod­ucts and liv­ing green
R research ongo­ing for expanded organic products
M money sav­ing prod­uct sizes and free recy­cling pro­gram for users
A few facts about Organ­o­derm products
Free of harm­ful chem­i­cals and syn­thetic ingredients
Have fewer ingre­di­ents to make the ones in the for­mu­la­tions more con­cen­trated and so more effective
Have truth in labeling
Free of ani­mal testing
Con­tain­ers that are clear and not hide the products
Limit extra­ne­ous packaging,
Be clearly iden­ti­fi­able as a green product
Be in fully recy­clable containers.
Be in over-sized con­tain­ers to limit the waste in our landfills.
Donate a min­i­mum of 10% of their net pro­ceeds to cur­ing cancer.
I am so thrilled to share with you two fan­tas­tic prod­ucts I was lucky enough to try. Organ­o­derm Day Cream and Organic Exfo­lia­tor
I used the Organic Exfo­lia­tor reli­giously every morn­ing for two weeks and this stuff is amaz­ing. It is per­fect for face, knees, elbows and any other rough areas on your body that you need to tar­get. It smells like cit­rus fruits, con­tains raw sugar and an assort­ment of organic oils. The raw sugar is not so abra­sive that it hurts your skin and it dis­solves while scrub­bing. After using this prod­uct my skin felt so clean, refreshed and those rough areas are now smooth!
I absolutely loved the Day Cream and I think this is one of the best Day Creams that I have ever tried. I have found that many day­time facial creams I have used in the past are so watered down that as soon as you apply them, it feels like it dis­ap­pears and just leaves your skin feel­ing dried out.  I applied the Organ­o­derm Day Cream right after I would get out of the shower in the morn­ing and found this cream to be thicker and not thin, oily or watery. I actu­ally felt like I put some­thing on and it made my face feel soft and mois­tur­ized. It was per­fect under my makeup for day­time wear
I highly rec­om­mend this com­pany and their won­der­ful range of prod­ucts. I can't wait to pur­chase a few more of them to give them a try too. If the rest of the line is as great as the two that I have tried I know I will be very happy.
~~I received prod­uct for review.  The opin­ions within this post are of my own and I was not influ­enced in any way.  Please do your own research before pur­chas­ing prod­ucts.  Your opin­ions and results may dif­fer from mine.~~
Buy It!!  Pur­chase your very own Organ­o­derm Day Cream and Organ­o­derm Organic Exfo­lia­tor.
Win It!! Enter my sweep­stakes give­away below for a chance to win Organ­o­derm Day Cream and Organ­o­derm Organic Exfo­lia­tor! (ARV 68.00) Open to Cana­dian  res­i­dents and USA residents.
How to enter: All entries must be sub­mit­ted using the Raf­fle­copter form below. After you com­plete the easy manda­tory entry, you can do as many bonus entries as you'd like to increase your chances of win­ning. I will be check­ing for dupli­cate entries to make sure it's fair, and no cheat­ing will be tolerated!
Tags: beauty, body care organic, canada, canada contest, canada contests, canadian contest, canadian contests, Canadian giveaways, canadian online contests, cleanser, contest, contests canada, CoolCanucks Blog Contest, coolcanucks giveaway, day creams, Dr. Domanskis, Dr. Edward Domanskis, Environmental Protection Day Lotion, exfoliators, eye gel, free canadian contests, free canadian giveaways, Free of ani­mal testing, giveaways, green prod­ucts, liv­ing green, natural skin care, nat­ural bio-actives, night cream, online canadian contests, Organic Raw Sugar Exfoliator, organic skin care, organic skin care products, Organoderm, reviews, skin beauty, skin care, win, win canadian contests, win canadian prizes, win prizes
Posted in CoolCanucks Blog Contest, Giveaways Canada | 1 Comment »
Friday, May 27th, 2011
These glit­ter cos­met­ics are truly amaz­ing. I would rec­c­om­mend them to any­one! I have owned other big brand name Glitter's and none of them even come close com­pared to Lit cos­met­ics glit­ter. First of all the glit­ter is VERY pig­mented, and they are very true to colour. This is what I seen in the pack­age that I received. I was very excited!!
The Amaz­ing thing about the Lit cos­met­ics Glit­ter Base is that it really does NOT allow the glit­ter to crease on your eyes. And It can also be used as a base for eye­shad­ows which is what I tried for a day and your eye­shadow lasts all day and night (until you take it off of course.) It enhances the colours of the eye­shad­ows, and I have also used it under my blush and it works with that as well! This is amaz­ing! I love this stuff!! I would HIGHLY RECOMMEND this to any­one who loves glit­ter and wants it to last all day long!
Lit cos­met­ics insists that with No Glit­ter there is No Glory!!  Start your LIT expe­ri­ence off with one of their great kits that include every­thing you need to add some glitz your look right up!  These nat­ural, water-based prod­ucts are alco­hol, paraben and Propy­lene Gly­col free.  LIT Cos­met­ics are hypoal­ler­genic and ideal for sen­si­tive skin. This fun, excit­ing prod­uct is easy to use and suit­able for every­one.  Bring some sparkle to any party with LIT Cos­met­ics or put them on your giv­ing list for some­one spe­cial and deserving!
Lit Cos­met­ics glit­ter is amaz­ing because unlike other glit­ter bases this one is com­pletely organic, and when it's on you don't even feel the glit­ter is there. No sticky, itchy, fly every­where mess. Best of all the patented water-based glit­ter base will last you for years. It's a bang for your buck and a real defi­nate "must have." They have the best cos­met­ics out there by far! Also note: ship­ping is just $10 any­where in the world!
Who Should Wear Lit Cos­met­ics
Our "tar­get mar­ket" is vir­tu­ally every­one. Lit prod­ucts are prac­ti­cal for all ages, both sexes and every skin tone. Our prod­ucts are worn by every gen­er­a­tion: daugh­ters, moth­ers, and grand­moth­ers all wear Lit! You will fall in love after the first appli­ca­tion and really what it comes down to is: "girls just wanna have fun!"
Along with every­day wear, Lit Cos­met­ics is per­fect for:
•Fig­ure skaters
•Dancers
•The­atre per­form­ers
•Cir­cus per­form­ers
•Cheer­lead­ers
•Face paint­ing
•Cos­tume par­ties
•Hol­i­days
•And much more!
HISTORY
The Birth of Lit Cos­met­ics
The idea for Lit has roots back in 2001 when Jodie Perks, the owner/inventor of Lit Cos­met­ics, was sling­ing drinks in the night clubs around Cal­gary. Hav­ing always been a fan of fun makeup and a lit­tle "bling, bling", Jodie felt the need to be a lit­tle dif­fer­ent from the rest of the girly girls serv­ing up drinks. That's when she hit on the idea of glit­ter eye makeup!
The basic con­cept was sim­ple; sparkles give a look of opti­mum colour inten­sity and light reflec­tion at all times of the day and into the night. Jodie had finally hit on a cool makeup to match her flashy personality!
After look­ing into the prod­ucts on the mar­ket there was sur­pris­ingly no decent glit­ter eye shad­ows to be found, thus Jodie was forced to take mat­ters into her own hands and began exper­i­ment­ing. Long hours and months of test­ing in her "top secret" base­ment lab eval­u­at­ing the pros and cons of all other glit­ter prod­ucts she exposed a num­ber of flaws, the most obvi­ous being the appli­ca­tion process and the adhe­sive. With time and deter­mi­na­tion, Jodie devel­oped a won­der­ful adhe­sive that holds, is com­fort­able and keeps the bril­liant shine of the glit­ter, as well as a whole new appli­ca­tion process for an excit­ing loose colour cos­metic line. Since 2001, Lit Cos­met­ics is now not only a bar-star prod­uct but has grown into a makeup that can be worn by any­one of any age at anytime—and that's how Lit was born!
Why Lit is Dif­fer­ent
"No glit­ter, no glory" is our motto—fun, yet true. Being in "glit­terol­ogy" (the sci­ence of glit­ter) for 6 years we have improved glitter/loose colour makeup as it is sold in the mar­ket today. With our liq­uid adhe­sive now per­fected, we have also bro­ken down our pig­ments into 4 dif­fer­ent sizes and 4 dif­fer­ent varieties-Lit sim­ply spe­cial­izes in glitter/loose colour makeup. Remem­ber: There are no rules when it comes to Lit! From a sin­gle colour high­lighter to hav­ing 10 shades blended over your eyelids-we dare you… Let the fun begin, and your cre­ativ­ity soar!
What is the Vision of Lit Cos­met­ics?
Other than want­ing to "glit­ter the world" it has always been our dream to change the way peo­ple per­ceive or think about glit­ter makeup. Our vision was to cre­ate a good qual­ity, sexy new makeup line unlike any other that is fun, excit­ing, easy to use and suit­able for every­one. Whether it's a day at the office or a spe­cial night out, glit­ter is the per­fect com­pli­ment to your look. Get noticed, get con­fi­dent — get Lit!
A Note To Cus­tomers
Hello fel­low Lit Chicks and we can't for­get about those Lit Dudes out there, it is now time to have fun and be cre­ative with your make-up, acces­sories and fashion—to real­ize that girls do just want to have fun, as Cyndi Lau­per preached to us in the 80's. Life is way too short to be bor­ing or to sim­ply be bored. Don't be one of those girls who says, "Oh, that looks great on her but I could never pull it off." You know who you are, and there are a lot of you because I hear it every sin­gle day! So don't be blocked by your­self, break though and be bold, be beau­ti­ful. This next bit of infor­ma­tion may sound a lit­tle odd but it's true, and all the present glit­ter girls of the world know this lit­tle secret and I believe in it as well: glit­ter is good for the soul. Some­thing hap­pens when you add a lit­tle glit­ter to your day. It gives you a smile, a good energy and just pumps you up and makes you feel glam, bam, thank you ma'am! So give Lit Cos­met­ics a try and enjoy every­thing you get out of it, like I have for the past 11 years! My final piece of advice for you is to stay young and try not to take things so seri­ously all the time, there is no age limit for glit­ter so you old gals like myself get it goin' on and always remem­ber, "no glit­ter, no glory!"
The very kind and gen­er­ous folks over at Lit Cos­met­ics have gra­ciously offered to give 1 very lucky Cool­Canucks reader the chance to win a Mini Me Lit Kit! SWEET!!
1) Head on over to Lit Cos­met­ics and tell me what you would love to try from there!
————->The Above is MANDATORY before any extra entries count. <—————
EXTRA ENTRIES: (Optional, these are there for you just in case you would like more chances of winning!!)
Fol­low @coolcanucks and @litcosmetics on Twit­ter! Leave me your twit­ter name!
Tweet this con­test link­ing to @coolcanucks and @litcosmetics ! Leave me the Sta­tus Link to your tweet!
*NOW UNLIMITED TWEETS DAILY!!* and leave a com­ment each time with the Tweet Sta­tus Link*
(Please note, there is a NEW Retweet but­ton added below this post – you may also use that for a quick and easy tweet – be sure to leave me the sta­tus link though!)
NEW!! Become a Fan of Cool­Canucks on our Face­book Page! 2 entries, leave 2 com­ments! Leave me your FB name please!
Become a Registered Cool­Canucks Mem­ber in our forum and leave me your user­name there!
Blog, Stum­ble, Digg or share this give­away on any open pub­lic forum and leave me the link to it! +5, leave 5 comments
Grab our Cool­Canucks but­ton located to the right of the blog. +5, leave 5 comments

Sub­scribe to Cool­Canucks RSS Feed! + 2 leave 2 comments
Pur­chase any­thing from Lit Cos­met­ics for the dura­tion of the give­away and get 10 extra entries!! Just tell me in a comment!
**Give­away open to both Canada & US and expires on June 27th, 2011**
A HUGE thank you to Lit Cos­met­ics for spon­sor­ing us with this GREAT Con­test here at CoolCanucks!!
269
EDIT COMMENT

Anne Tay­lor
June 9th, 2011 at 11:19 am

http://twitter.com/#!/greeeneyedwhwom/status/78843672292110336
Tags: : organic cosmetics, alcohol, beauty information, Best Cosmetics, Best Glitter, Blush, canada, canada contest, canada contests, canadian contest, canadian contests, Canadian giveaways, canadian online contests, contest, contests, contests canada, CoolCanucks Blog Contest, CoolCanucks Blog Contest ~ Lit Cosmetics Review & Giveaway, coolcanucks giveaway, cosmetics, enter, eyeshadows, free canadian contests, free canadian giveaways, giveaway, glitter, Glitter Base, Hypoallergenic, ideal for sensitive skin, Lit Cosmetics, LIT cosmetics glitter, Lit Cosmetics Glitter Base, Makeup tips, makeup tutorials, MINI LIT KIT, MINI LIT KIT GIVEAWAY, Mini Me Lit Kit, online canadian contests, organic, paraben and Propylene Glycol free, Review & Giveaway, reviews, sensitive skin, sensitive skin cosmetics, skin care tips, win, win canadian contests, win canadian prizes, win prizes
Posted in Giveaways Canada | 691 Comments »
Tuesday, October 13th, 2009
I was over­whelmed with hap­pi­ness when approached by CrazyDogTshirts.com to do a review for them!
T-shirts are a basic sta­ple in anyone's wardrobe and they are a must for mine.  Crazy Dog t-shirts carry an awe­some vari­ety to pick and choose from, the major­ity that will have you rolling on the floor with laugh­ter or pay­ing homage to some of the great­est cult clas­sic films out there. So when I was given the oppor­tu­nity to review a cou­ple I imme­di­ately knew after brows­ing through all the fun tees that the  Cana­dian eh team t-shirt would be per­fect for me!! I live in a bor­der city to Michi­gan, and the Amer­i­cans love to bug me when I head over there and ask ques­tions or have polite con­ver­sa­tion and I use the word "EH"!? They imme­di­ately respond "Cana­dian HUH?" LOL
I find this to be hilar­i­ous, so I knew this was the PERFECT Tshirt for me to wear over there!!
It was nice to have a shirt that was com­fort­able and in my opin­ion cute that didn't look like I was try­ing to squeeze as much of myself as pos­si­ble into it, espe­cially since most t-shirts for women nowa­days are made to fit and can show off every tiny bump or bulge if your not care­ful. Soft and well made, my shirt washed great and I expect it to hang around for quite awhile as I've grown pretty fond of it.
Crazy Dog t-shirts allow you to nar­row your searches down to spe­cific cat­e­gories such as vintage,hilar­i­ous,80's and more to help make find­ing what you want eas­ier and you just can't beat the decent prices they offer. The only prob­lem I had was the fact that I could've spent my whole day just enter­tain­ing myself by brows­ing their entire site. Not only do they have great shirts for adults but they carry some cute ones for kids as well. You just don't lose out when it comes to options with this company!
I found this one HILARIOUS when brows­ing through their Cos­tumes! A wig, cloning none other than the Infa­mous Kate Gos­selin! LOL LOL
 Is that not hilar­i­ous?! I just about choked on my milk when I saw that!!!!!
One lucky reader will get the chance to win a tee of their choice from CrazyDogTshirts.com!
~The Give­away~
To enter all you have to do is the fol­low­ing 2 things. You MUST com­plete both of these or else you will be disqualified!
Head on over to CrazyDogTshirts.com and tell me which Tshirt you would choose if you were the lucky win­ner! Also while you are there, you must sign up for their email newslet­ter on the top right. Do these 2 things, and then come back here and tell me in one comment.
*Extra Entries*
* Fol­low @coolcanucks on Twit­ter and tweet about the give­away and com­ment with the link, you can use the fol­low­ing to tweet: I'm entered to win a Crazy­DogT­shirt from @coolcanucks and you can too! check it out: http://tinyurl.com/yzp6ohd  Open to All!!      Leave me your twit­ter­name and twit­ter sta­tus link! Tweet daily!
*Post on your blog or any pub­lic forum about the give­away link­ing to this post and crazydogtshirts.com and com­ment with the link.
*Become a mem­ber of Cool­Canucks and leave me your CC username!
*sub­scribe to Cool­Canucks via email, on the right hand side of page, and ver­ify it once the link is sent to your email account! I will check so leave me a com­ment here of the email addy you used to sub­scribe with.
The Give­away for Octo­ber will end Octo­ber 31st, 2009 and is open to both Cana­dian as well as US Residents!
***You must leave me your email address in each of your com­ments because if I don't have a way to get a hold of you, another win­ner will be cho­sen in your place.***
A Huge Thank you to Bill from CrazyDogTshirts.com  for spon­sor­ing us with this Fab­u­lous Giveaway!!
*****CLOSED*****
Con­grats to Wanda! #156!*****
Wanda
Octo­ber 27th, 2009 at 9:08 pm
"Pad­dle Faster – I Hear Ban­jos" HA HA HA HA HA HA HA HA HA – That's mine! These are GREAT!! Of course, I sub­scribed to the emails.
wan­da­panda at live dot com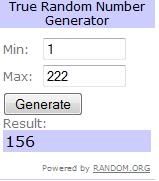 Tags: canadian contests, crazy dogs tshirts canada, online canadian contests, reviews, win canadian contests
Posted in Giveaways Canada | 222 Comments »