Posts Tagged 'Penningtons Canada Hot Deals'
Saturday, January 1st, 2011
Save 25% off of reg­u­lar priced mer­chan­dise plus 50% off of already reduced mer­chan­dise now at Pen­ning­tons Canada!
Click here for the details — and you best hurry because this sale is over on Jan­u­ary 2nd, 2011!!
A huge thank you to mas­ter­rocker for shar­ing this great deal with us on CoolCanucks.ca!!!
Tags: 50% Off Outerwear, canada, canada deals, Canadian Deals, canadian savings, deals, hot canadian deals, hot deals canada, Penningtons Canada, Penningtons Canada Deals, Penningtons Canada Hot Deals, Penningtons Canada: 50% Off Outerwear
Posted in Hot Deals Canada Canadian Bargains Sales Discounts | Comments Off
Wednesday, November 18th, 2009

Novem­ber 19th — 24th Pen­ning­tons Canada is hav­ing a sale where you can Save 40% off all Bras!
Also, for one day only, Novem­ber 20th — you save 40% off ALL outwear!!
I know that Bras are REALLY expen­sive to begin with, so do not miss out on this Siz­zling Deal if you can help it! 40% off is a GREAT deal!
Click here for fur­ther details!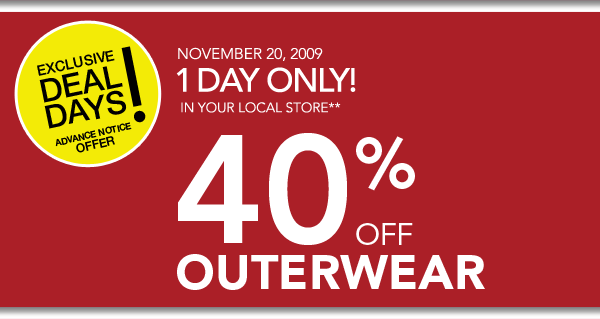 Tags: canada, canada deals, Canadian Deals, canadian savings, deals, hot canadian deals, hot deals canada, Penningtons Hot Canadian Deals, Penningtons sales, Penningtons Canada Deals, Penningtons Canada Hot Deals, Penningtons Canada Hot Canadian Deals, penningtons deals
Posted in Hot Deals Canada Canadian Bargains Sales Discounts | Comments Off