Posts Tagged 'In Memory of my Dear Brother Eddy who is now in Heaven'
Monday, November 30th, 2009
In mem­ory of my Dear Brother Eddy
5 years ago today, my brother Eddy was taken from us so unex­pect­edly.
At the very young age of 43, God took Eddy home.
Tears dwell in my eyes as I sit hear play­ing Amaz­ing Grace repeat­edly. My heart has been bro­ken since the day of Eddy's pass­ing on Novem­ber 30th, 2004.
It's a day never to be forgotten.
You see, Eddy was an alcoholic.
Dur­ing the last year of his life in 2004, Eddy sought help and became sober. He went from our local detox cen­ter to a rehab cen­ter where he was cer­tainly a changed man. Usu­ally when Eddy was sober, he would shy away from any­one, and anything.
The last year of his life he was actu­ally brave while sober! Eddy did things he had never done before! He went places in pub­lic all alone other than the beer or liquor store! He went to dif­fer­ent com­mu­nity events! He went and got a tat­too! Wow we were so proud of Eddy, and we cer­tainly praised him up!
He worked at a local steel com­pany for many years, where they paid him sick leave to try and get bet­ter and over­come this alco­holism. You see, if you are not an alco­holic, nor do you know any, then let me explain some­thing that I now know.
Alco­holism is a disease.
Eddy was an alco­holic for quite a few years. There are six of us kids, and most of us had the occa­sional social drink, how­ever Eddy would drink all day or night. He would hide the booze around the house and keep a stash. We got to know the signs. We tried to get him help for many years, but it appears that we did not do enough as a family.
I often blame myself for Eddy's death. If only, if only…are words that are in my mind steadily.
I suf­fer through bad depres­sion and anx­i­ety as it is, but Eddy's death seemed to make every­thing a whole lot worse.
Eddy owned his own home, and had a really good job. He had a huge heart, and was a come­dian! He was never phys­i­cally abu­sive. He was a great guy, period. He never got into any type of trou­ble with the law. He was sin­gle, because he was too shy to go out and meet girls.
I lived at Eddy's house with my ex-boyfriend at the time, Kevin. He drank quite a bit then, how­ever always man­aged to make it to work, no mat­ter what.
After my ex and I split up and he moved out, I remained to stay at my brother Eddy's. I started dat­ing again and things were fine.
One night on Eddy's 41st birth­day, June 26th, 2001 I stayed at my par­ents overnight.
When I went home the next day, the house was a com­plete dis­as­ter. I did not know what the heck went on, but booze appeared to be all over the sticky kitchen floor, and every­thing was strewn about. In awe, I called for Eddy who was in his room to see what had happened.
He looked at me with a funny look, almost unaware of what I was talk­ing about.
I knew some­thing was wrong, right then and there.
He went back to sleep and com­plained of hav­ing a ter­ri­ble headache. I just assumed that it was a hang­over, so let him rest while I cleaned up the entire house.
All that week I hardly saw Eddy. He had me call into work for him the major­ity of that week, con­tin­u­ously com­plain­ing of that headache.
I got scared and called my other brother to take him to our local emerge depart­ment. They went alright, but they ended up treat­ing and releas­ing Eddy, say­ing that it was 'just a headache'. Home they came.
The fol­low­ing week I heard the same thing almost daily about his headache, and REALLY knew that some­thing was up.
Another brother went back to emerge with Eddy, as to which I got a phone call a few hours later. "Heather? Pack your bags. You have to go with Eddy to Sud­bury as they did a CAT Scan and he has bleed­ing on his brain. You 2 are being air-lifted now!"
The tears flowed like you would not believe after hear­ing those words and I started to shake like crazy.
I got ready quick, and away we went!
The tiny plane was only a 3-seater, and prior to this Eddy often told me that he would never fly. He watched that movie "La Bamba" with Richie Valens and that really fright­ened him. The doc­tor gave him an ata­van at the hos­pi­tal prior to leav­ing, but it did not even have an effect on Eddy as he was terrified!
As soon as the engine of the plane started Eddy was lay­ing on the stretcher and yelled "What is that?" The pilot then replied "That is some­thing that you WANT TO HEAR buddy, that is the engine!" (Finally, I saw Eddy smile and laugh)
A short while later we were in the Neu­rol­o­gist Unit at a hos­pi­tal in Sud­bury Ontario. The neu­rol­o­gist came in right away to see Eddy. She asked him alot of ques­tions — as to which he was con­fused by most at that point. (His date of birth, his address,) sim­ple things like that.
I was so scared by all of this I needed a cig­a­rette so excused myself and away I went.
When I returned, The Neu­rol­o­gist told me that Eddy would be going for an MRI first thing the next day.
I stayed at a really nice inex­pen­sive place for fam­i­lies of patients, and went there for the night alone. All I did was lay in bed try­ing to focus on the tv, but all I could think about was my poor brother.
I returned to the hos­pi­tal the very next morn­ing super early, and went with Eddy for his MRI. All of my fam­ily at home was wor­ried sick too, so I had to call and fill them all in on the happenings.
Shortly after the MRI, the Neu­rol­o­gist pulled me aside. She asked what had hap­pened, if I knew any­thing. But the worse part is, that I didn't.
Eddy had appar­ently went to a house party the night of his birth­day as I found out shortly after by some peo­ple at a local bar.
The doc­tor pro­ceeded to tell me that his brain had com­pletely shifted, and this could not be done by a sim­ple fall. So, our con­clu­sion to all of this was that Eddy took a severe blow to the head. Hence, some­one did this to my poor, poor now deceased brother the night of his birth­day at that party. It makes me so sick to think of it now, but later when I asked ques­tions, no one seemed to know any­thing of course.
The doc­tor gave my brother 2 options:
1) To oper­ate and try to stop the bleed­ing, or
2) To just go home and pray it heals by itself.
Eddy opted for #2.
We went home the next day, and the fol­low­ing week Eddy returned to work.
Every­thing appeared fine, but then the Grand Mal Seizures started.
Our fam­ily doc­tor gave Eddy Dilan­tin to con­trol the seizures, how­ever at that time Eddy con­tin­ued to drink so the pills never even kicked into his sys­tem. What a hor­ri­ble hor­ri­ble thing to live through, as to see some­one hav­ing one seizure after another! My stom­ach was con­stantly sick, and I was walk­ing on pins and nee­dles, just wait­ing for the next seizure to strike. Alot of times he would end up hurt­ing him­self through them, (he once Banged his head off of the cement floor in the base­ment one night after falling down the stairs, etc) I would con­tin­u­ally have to get the ambu­lance to our house as his heart rate would go up pro­fusely. It was an extremely deves­tat­ing thing to live through. He would take one seizure and come out of it, and then a lot of times wait about 45 min­utes until another one struck.
We begged and pleaded with Eddy to get some help, until 2004 when he went will­ingly to our local detox cen­ter. He seemed to really like it there, and we vis­ited him often. He went back and forth to work from there, and the seizure meds were actu­ally work­ing because he was not drink­ing. I sure felt at ease in my heart know­ing he was there and he was safe.
After stay­ing there a short while, Eddy's bosses vis­ited him to see if he would like to go to the Ken Brown Recov­ery Home here to seek fur­ther help, more detailed than at the Detox cen­ter. He agreed, and they said they would give him sick pay while he got better.
The guys at that Recov­ery home treated Eddy like gold. They had him involved in alot of activ­i­ties, and he made alot of friends there.
Eddy stayed there for a few months, until the bosses vis­ited him one more time, ask­ing if he would like to go to an exten­sive Alco­holic Rehab Cen­ter 3 hrs east of here called "Camilus". He told them he would think about it, and then called to tell us of his deci­sion, that he would go and get exten­sive treat­ment for once and all.
Those words were like music to our ears! Camilus is very well known around here as well as a very rep­utable Rehab Center.
That was at the begin­ning of Novem­ber 2004. They sched­uled him to leave the morn­ing of Novem­ber 30th.
Novem­ber 29th was my best friend Becky's birth­day, as well as my brother-in-laws. Mom and dad invited all of us over for cof­fee and cake to cel­e­brate the birthday's. Eddy had to stay at my par­ents overnight as they had to drive him to the Grey­hound bus sta­tion that next morn­ing to leave for rehab. (Eddy lost his driver's license due to hav­ing all of those seizures, and this hurt him alot.)
We had a lot of fun that evening, and shared tons of laughs.
I too stayed the night at my par­ents, and said my goodbye's to my brother Eddy as I knew that they were leav­ing really early that next morn­ing for the Rehab Center.
"Good­night Eddy" I said. "Be good, stay strong brother, and I will see you in a few weeks when you come home for Christ­mas Break! I love you Eddy!"
That was the very last time that I saw my brother alive.
Eddy went to Camilus Cen­ter on Novem­ber 30th, 2004, and passed away on his very first night there of 'nat­ural causes.'
Eddy died sober.
I miss you and love you so much brother. Rest in peace Eddy. My heart con­tin­ues to ache, but I know that you are my Guardian Angel. I know that you are in a bet­ter place now.
 
Psalm 23 (King James Version)
 
The LORD is my shep­herd; I shall not want.
He maketh me to lie down in green pas­tures: he lead­eth me beside the still waters.
He restoreth my soul: he lead­eth me in the paths of right­eous­ness for his name's sake.
Yea, though I walk through the val­ley of the shadow of death, I will fear no evil: for thou art with me; thy rod and thy staff they com­fort me.
"Amaz­ing Grace, how sweet the sound,
That saved a wretch like me.…
I once was lost but now am found,
Was blind, but now, I see.
T'was Grace that taught…
my heart to fear.
And Grace, my fears relieved.
How pre­cious did that Grace appear…
the hour I first believed.
Through many dan­gers, toils and snares…
we have already come.
T'was Grace that brought us safe thus far…
and Grace will lead us home.
The Lord has promised good to me…
His word my hope secures.
He will my shield and por­tion be…
as long as life endures.
When we've been here ten thou­sand years…
bright shin­ing as the sun.
We've no less days to sing God's praise…
then when we've first begun.
"Amaz­ing Grace, how sweet the sound,   
That saved a wretch like me.…
I once was lost but now am found,
Was blind, but now, I see.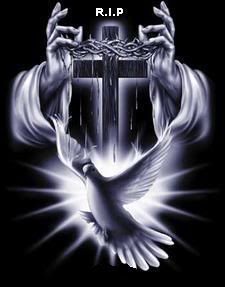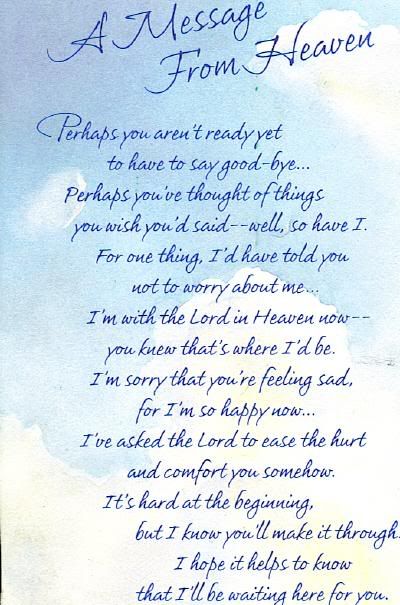 Tags: In Memory of my Dear Brother Eddy who is now in Heaven
Posted in Free Coupons Canada Samples Canadian Free stuff | 12 Comments »