Posted on March 1st, 2012 by roxxyroller in CoolCanucks Blog Contest, Giveaways Canada.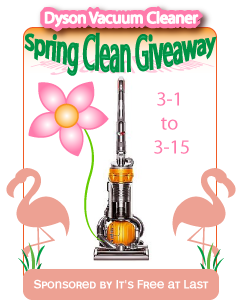 Why not Get a leg-up on your Spring Clean­ing and enter to win a Dyson Vac­uum Cleaner!!!!
It's Free At Last has teamed up with many other AMAZING blog­gers to bring you this AWESOME Give­away for a nice Dyson Vac­uum Cleaner!!!!
These FABULOUS blog­gers have teamed up to bring you this unique and awe­some Giveaway:
It's Free At Last, Mommy's Coupon Train, Sav­ings In Sum­ner Co, Free­tail Ther­apy, Free­bies 4 Real, Embrac­ing Beauty, Shopa­holic Mommy, Mom Blog Soci­ety, Twin Sis­ters in the City, Capri's Coupons, Meg's Moxie, Coupon Queen of Texas, Every­day Free Sam­ples, Retail Ther­apy Lounge, Fru­gal Fam­ily Fash­ion, Gim­mieFree­bies, MyCoupon­Lady, Cori's Coupon Cor­ner, Couponin' on Cof­fee, We Love Amaz­ing Deals, This Mama Loves Her Bar­gains, Rocky Moun­tain Sav­ings, Fuggs and Foach, Pawsi­tive Liv­ing, Free­bie Cor­ner, Gone Klip­pin' Krazy, The Home­school­ing Blog, Cool Canucks, Money Sav­ing Amanda, Nifties 'N Thrifties, Utah Coupon Deals
This con­test will run from March 1, at 12:01am EST through March 15, at 12:01EST. This con­test is open to the US & Canada. Win­ner will be cho­sen at the end of the con­test via the Raf­fle­copter form.
Tags: canada, canada contest, canada contests, canadian contest, canadian contests, Canadian giveaways, canadian online contests, contest, contests, contests canada, CoolCanucks Blog Contest, coolcanucks giveaway, Dyson canada, Dyson Canada Vacuums, enter, free canadian contests, free canadian giveaways, online canadian contests, Spring Clean Giveaway, Spring Clean Giveaway ~ Win a Dyson Vacuum Cleaner!!, win, Win a Dyson Vacuum Cleaner!!, win canadian contests, win canadian prizes, win prizes