Posted on November 18th, 2009 by roxxyroller in Hot Deals Canada Canadian Bargains Sales Discounts.

Novem­ber 19th — 24th Pen­ning­tons Canada is hav­ing a sale where you can Save 40% off all Bras!
Also, for one day only, Novem­ber 20th — you save 40% off ALL outwear!!
I know that Bras are REALLY expen­sive to begin with, so do not miss out on this Siz­zling Deal if you can help it! 40% off is a GREAT deal!
Click here for fur­ther details!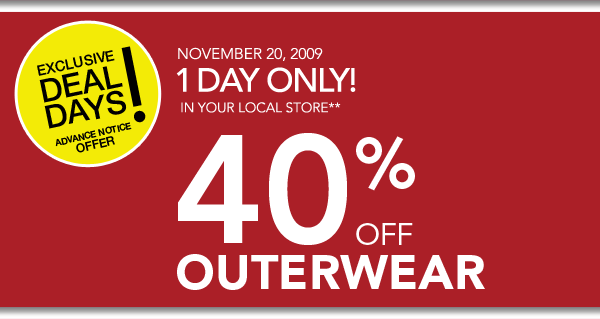 Tags: canada, canada deals, Canadian Deals, canadian savings, deals, hot canadian deals, hot deals canada, Penningtons Hot Canadian Deals, Penningtons sales, Penningtons Canada Deals, Penningtons Canada Hot Deals, Penningtons Canada Hot Canadian Deals, penningtons deals