Posted on November 17th, 2009 by roxxyroller in Free Coupons Canada Samples Canadian Free stuff.
I took some time this morn­ing as I often do, to go through my email and read other's great blogs that I sub­scribe to via email.
I was read­ing " She Scribes" and got to read­ing an arti­cle posted by them that instantly brought tears to my eyes. This site that "She Scribes" fea­tured on their blog is so ben­e­fi­cial, and I had not really thought about it until this story reached out to me today.
For those of you who do not sub­scribe to that par­tic­u­lar blog, I think that you should, as there are some really good arti­cles posted!
Here is what was posted on "She Scribes", taken from their blog, word for word as I really wanted to share this with my read­ers too!
This time of year peo­ple tend to be a bit more char­i­ta­ble and donate to many causes. Sadly it's only around that hol­i­days that peo­ple want to be giv­ing to help oth­ers have a happy hol­i­day. Although that is admire­able, peo­ple are hun­gry year round, not just dur­ing the hol­i­days. Many peo­ple and orga­ni­za­tions need help year round, not just dur­ing the hol­i­day season.
This year if you donate or vol­un­teer to help out those less for­tu­nate then your­self please try and make an extra effort in 2010 to donate or vol­un­teer a few more times through­out the year if at all pos­si­ble. $10.00 here, $5,00 there can help. Even donat­ing an hour of your time by vol­un­teer­ing can really make a huge difference.
There is a char­ity that is not very well known, but their efforts are no less admirable then other charties.
A well dressed woman walks up to a home­less man and gives him a bag of fast food on her way to work. The man has been sit­ting on the side­walk in the same spot for weeks, he looks up and says "God bless you." The woman nods and walks away but not before she turns to see him open the bag and remove a burger, take a bite and give the rest to his dog. This scene is prob­a­bly some­thing that goes on more often than we would like to think.
It is esti­mated by the National Coali­tion for the Home­less that 3.5 mil­lion peo­ple are home­less. Between 5% to 10% of home­less peo­ple have dogs and/or cats. In some areas of the coun­try the rate is as high as 24%. Most peo­ple who expe­ri­ence home­less­ness are home­less for a short period of time, and usu­ally need help find­ing hous­ing or a rent sub­sidy. But unfor­tu­nately for those with pets it becomes more dif­fi­cult. Many are forced to choose between their pet or a roof over their head. Sur­pris­ingly, most choose to stay on the streets with their pets for longer peri­ods of time. Their pets are non­judg­men­tal, pro­vid­ing com­fort, an emo­tional bond of loy­alty. In some cases they pro­vide the home­less with pro­tec­tion and keep them warm. The tragic part is that the pets of the home­less do not choose their owners.
As the "mom" to four cats and a dog I know just how much joy and hap­pi­ness and pet can bring into your life. Your pets love you and want to make you happy. They are always there for you. I can't imag­ine a life with­out pets. Grow­ing up my pets were my best friends. I lived in the coun­try and there weren't many kids where I lived so my dogs, cats, birds, fish, ham­sters and even a horse were my friends.
Being home­less, even for a short period of time is hard enough. I am sure that hav­ing a con­stant com­pan­ion with you (a pet) pro­vides com­fort and gives you a sense of love that you might not oth­er­wise have.
Pets of Home­less helps home­less peo­ple strug­gling to find a home with food for their best friends. Food banks and soup kitchens often do not have the sup­plies or resources to feed pets too.
Pic­tures like the one above and the ones below really touched my heart.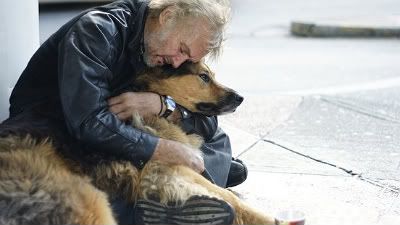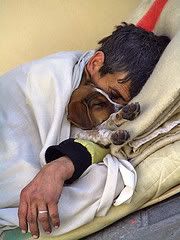 To learn how you can help please visit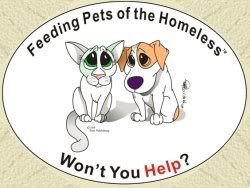 Thanks to She Scribes for post­ing this very impor­tant story and orga­ni­za­tion with us all!
Tags: Help Feed the Pets of the Homeless