Posted on October 13th, 2009 by roxxyroller in Giveaways Canada.
I was over­whelmed with hap­pi­ness when approached by CrazyDogTshirts.com to do a review for them!
T-shirts are a basic sta­ple in anyone's wardrobe and they are a must for mine.  Crazy Dog t-shirts carry an awe­some vari­ety to pick and choose from, the major­ity that will have you rolling on the floor with laugh­ter or pay­ing homage to some of the great­est cult clas­sic films out there. So when I was given the oppor­tu­nity to review a cou­ple I imme­di­ately knew after brows­ing through all the fun tees that the  Cana­dian eh team t-shirt would be per­fect for me!! I live in a bor­der city to Michi­gan, and the Amer­i­cans love to bug me when I head over there and ask ques­tions or have polite con­ver­sa­tion and I use the word "EH"!? They imme­di­ately respond "Cana­dian HUH?" LOL
I find this to be hilar­i­ous, so I knew this was the PERFECT Tshirt for me to wear over there!!
It was nice to have a shirt that was com­fort­able and in my opin­ion cute that didn't look like I was try­ing to squeeze as much of myself as pos­si­ble into it, espe­cially since most t-shirts for women nowa­days are made to fit and can show off every tiny bump or bulge if your not care­ful. Soft and well made, my shirt washed great and I expect it to hang around for quite awhile as I've grown pretty fond of it.
Crazy Dog t-shirts allow you to nar­row your searches down to spe­cific cat­e­gories such as vintage,hilar­i­ous,80's and more to help make find­ing what you want eas­ier and you just can't beat the decent prices they offer. The only prob­lem I had was the fact that I could've spent my whole day just enter­tain­ing myself by brows­ing their entire site. Not only do they have great shirts for adults but they carry some cute ones for kids as well. You just don't lose out when it comes to options with this company!
I found this one HILARIOUS when brows­ing through their Cos­tumes! A wig, cloning none other than the Infa­mous Kate Gos­selin! LOL LOL
 Is that not hilar­i­ous?! I just about choked on my milk when I saw that!!!!!
One lucky reader will get the chance to win a tee of their choice from CrazyDogTshirts.com!
~The Give­away~
To enter all you have to do is the fol­low­ing 2 things. You MUST com­plete both of these or else you will be disqualified!
Head on over to CrazyDogTshirts.com and tell me which Tshirt you would choose if you were the lucky win­ner! Also while you are there, you must sign up for their email newslet­ter on the top right. Do these 2 things, and then come back here and tell me in one comment.
*Extra Entries*
* Fol­low @coolcanucks on Twit­ter and tweet about the give­away and com­ment with the link, you can use the fol­low­ing to tweet: I'm entered to win a Crazy­DogT­shirt from @coolcanucks and you can too! check it out: http://tinyurl.com/yzp6ohd  Open to All!!      Leave me your twit­ter­name and twit­ter sta­tus link! Tweet daily!
*Post on your blog or any pub­lic forum about the give­away link­ing to this post and crazydogtshirts.com and com­ment with the link.
*Become a mem­ber of Cool­Canucks and leave me your CC username!
*sub­scribe to Cool­Canucks via email, on the right hand side of page, and ver­ify it once the link is sent to your email account! I will check so leave me a com­ment here of the email addy you used to sub­scribe with.
The Give­away for Octo­ber will end Octo­ber 31st, 2009 and is open to both Cana­dian as well as US Residents!
***You must leave me your email address in each of your com­ments because if I don't have a way to get a hold of you, another win­ner will be cho­sen in your place.***
A Huge Thank you to Bill from CrazyDogTshirts.com  for spon­sor­ing us with this Fab­u­lous Giveaway!!
*****CLOSED*****
Con­grats to Wanda! #156!*****
Wanda
Octo­ber 27th, 2009 at 9:08 pm
"Pad­dle Faster – I Hear Ban­jos" HA HA HA HA HA HA HA HA HA – That's mine! These are GREAT!! Of course, I sub­scribed to the emails.
wan­da­panda at live dot com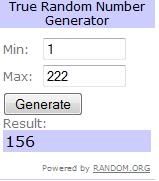 Tags: canadian contests, crazy dogs tshirts canada, online canadian contests, reviews, win canadian contests