Posted on April 5th, 2010 by roxxyroller in Giveaways Canada.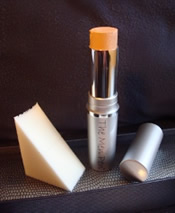 Let me intro­duce you to The Men Pen™
Uses: The men pen is a prod­uct made specif­i­cally for men to help con­ceal blem­ishes. There are many uses for The Men Pen related to facial enhance­ment. It is designed to be used for spot cov­er­age of a spe­cific affected area such as acne, scars, moles, red­ness, etc. The Men Pen can be used daily but typ­i­cally is used for dress to impress occa­sions such as busi­ness meet­ings, or nightlife where your image is critical.
The Men Pen™ is a men's cos­metic con­cealer stick specif­i­cally designed for men.  The Men Pen™ comes in 17 col­ors so there's a match for every­one. The pocket size men's makeup stick goes with you while at work or the club. Be a male model and con­ceal blem­ishes with The Men Pen™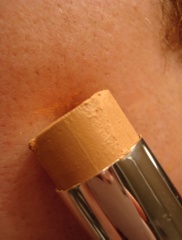 "The Men Pen is meant to be used on your face for spe­cific top­i­cal cov­er­age. You should lightly dab the stick directly on the spot you would like con­cealed or smoothed. Zit, mole, rough pores, scar, bumps, etc. Once you dab the spot you will want to smooth the prod­uct so it blends prop­erly with your skin. Included in your pack­age is a foam wedge that you can use, oth­er­wise your fin­ger or tis­sue paper works great. You will blend till area looks com­pletely smooth so no one will notice that you even have it on and your spot will be concealed!"
At last, a con­cealer for men! We women get the max­i­mum cov­er­age one can get with all of the excel­lent foun­da­tions, pow­ders, and concealer's out there on the mar­ket today and this is per­fect for the male who shows imper­fec­tions and wants to dis­guise them just as women do!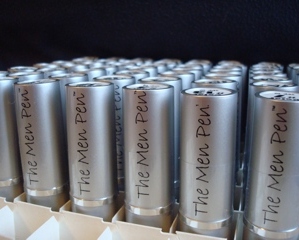 The Men Pen™ comes in an array of 17 dif­fer­ent shades as well, so choose the right skin colour that is per­fect for you! Click here to view the amaz­ing shades and deter­mine your colour!
The Men Pen™ assists with:
Acne Con­ceal­ing
Rough Skin
Mole cov­er­age
Pig­ment dam­age  Red­ness con­ceal­ing
Scar repair
Dark cir­cles around eye
See the aston­ish­ing before and after pic­tures here!
Shop­ping for The Men Pen™ is a com­plete snap, sim­ply click here to order yours now!
Tags: CoolCanucks Blog Contest, The Men Pen™, The Men Pen™ Review