Posted on October 26th, 2009 by roxxyroller in Giveaways Canada.
ABOUT Girl Gotch:
How it all began… If you would have told me a year ago that I would be design­ing and launch­ing my own under­wear line for lit­tle girls, I wouldn't have believed it, but here I am and I am so excited to share my prod­ucts with you.
It all started in the sum­mer of 2008. I was potty-training my daugh­ter and was hav­ing a really hard time find­ing under­wear that fit her. She seemed to always be pulling and adjust­ing and no mat­ter what, they would "ride-up". I tried every­thing, even buy­ing size 5/6 panties for her (even though she was 2).
One after­noon, we were at my sister's house. My daugh­ter and nephew were play­ing and were so wrapped up in their fun that my daugh­ter had an acci­dent. I didn't have a change of clothes, so I bor­rowed a pair of my nephew's gotch. I didn't think much of it at the time, but as the day went on I noticed that she wasn't com­plain­ing about her under­wear hurt­ing. I also watched her jump and play around and they stayed in place. The gotch cov­ered her whole bum, which was some­thing her panties never man­aged to do.
That got me to thinking…why don't they make gotch for girls? And so, Girl Gotch was born and that brings me to today. I have been work­ing with design­ers and man­u­fac­tures to get what I believe are the best girl's under­wear on the market!
I have seen the Girl Gotch under­wear for lit­tle girls on many review sites, and every­where I read  stated to say that these under­wear are the best they have ever had for their lit­tle daugh­ters!! "No more wed­gies!" is what one tes­ti­mo­nial stated, and read on of other tes­ti­mo­ni­als from cur­rent reviewers:
~"Girl Gotch is the cutest, com­fi­est girl's under­wear I've found, and the only ones that fit my two-year-old prop­erly. Cheers to any­thing that makes potty-training easier!"
~"Girl Gotch tes­ti­mo­nial you say? Like the fact that my girls are Girl Gotch snobs at the ten­der ages of 3 and 5? Like how I have to buy more so I'm not doing laun­dry every sec­ond day? And how they have to wear the same ones at the same time? The briefs are the more com­mon every day choice for under clothes. The box­ers are bril­liant under skirts and dresses. They are comfy and mod­est. They are wash­ing well and main­tain­ing their favour with the girls."
~"I wanted to let you know that I got the under­wear on Fri­day. My daugh­ter LOVES it. She has already started ask­ing if she can wear the 'girl' under­wear, as opposed to that nor­mal stuff. "
~"We love Girl Gotch! We were so impressed with the unique design for our lit­tle girl who had trou­ble mov­ing in her under­wear while toi­let train­ing. Once she started wear­ing the Girl Gotch under­wear we noticed right away that she was run­ning and bend­ing with so much more ease. We bought 2 more boxes for our fam­ily and have told all our friends about the company!"
Do you want to win one Pack­age of 3 pairs of Girl Gotch Under­wear for your lit­tle Princess??
I have had the oppor­tu­nity of meet­ing Rebecca, the owner of Girl Gotch and she has gen­er­ously offered to spon­sor Cool­Canucks with one win­ner per week for the next month con­sist­ing of one pack­age of Girl Gotch Underwear!
~The Give­away~
I will hold each Girl Gotch Give­away Sep­a­rately weekly here, so this con­test will run from today which is Octo­ber 26th, 2009 until next Mon­day, which is Novem­ber 2cnd, 2009 
 Give­away open to BOTH Cana­dian and US Residents!
In order to win though, you must do the fol­low­ing: **I will delete entries that don't fol­low RULES**
1)  SUBSCRIBE to Cool­Canucks Blog (right hand-side) via email! (You must ver­ify the sub­scrip­tion in your email too, as I will check!) Leave me which email addy you sub­scribed with in your com­ment!  Then head over to Girl Gotch, browse through the won­der­ful items that they offer, and tell me why you would LOVE to have this!  YOU MUST ALSO fol­low Cool­Canucks Via Google Friend Con­nect!! 
*****************The Above is MANDATORY before any extra entries count.****************
2) Join Girl Gotch on Face­book and leave a com­ment on their wall! Tell her you found her on CoolCanucks.ca! Come back here to tell me that you did, and your Face­book name.
3) Become a reg­is­tered mem­ber of Cool­Canucks! Leave me your user­name in a comment!
4) Fol­low @cool­canucks on Twit­ter! Leave me your twit­ter name!
 5) Tweet this con­test link­ing both to @coolcanucks and Girl Gotch! Leave me the Sta­tus Link to your tweet! *Do this as many times as you want in a day, but leave a seper­ate com­ment each time with the Tweet Sta­tus Link.*
6) Blog or share this give­away on any open pub­lic forum and leave me the link to it!
7 ) Post this give­away on your Face­book page leav­ing me your Face­book name.
8 ) Grab our Cool­Canucks but­ton located to the right of the blog. +5, leave 5 comments
A BIG Thank you to Rebecca at Girl Gotch for host­ing this great giveaway!!
~Much Cool­Canuck Luck~
Con­grats to #32, 
Melanie S
Octo­ber 27th, 2009 at 6:52 pm
Tweet — http://twitter.com/SaywardBC/status/5213630549
melaniesands[at]***********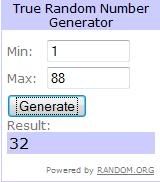 Tags: canada contest, canada contests, canadian contests, Canadian giveaways, contest, contests canada, coolcanucks giveaway, free canadian contests, online canadian contests, win, win canadian contests, win canadian prizes, win prizes