Posted on March 2nd, 2010 by roxxyroller in Giveaways Canada.
If your chil­dren (or grand­chil­dren, or nieces, or nephews…) are into art like mine are, you'll find Stubby Pen­cil Stu­dio to be a tan­gi­ble, visual (and olfac­tory) treat! It began in 2006 by Kate Rosen­thal, and is pointed at sta­tionery and art sup­ply prod­ucts that are both eco-friendly and child-friendly.
Stubby Pen­cil Studio's prod­uct assort­ment is astound­ing and awe-inspiring. There's some­thing for every­one here! Take a look at a few of their spec­tac­u­larly fun items:
There is an exten­sive line of great gift ideas for adults, such as the ever-popular Envi­rosax in assorted colours & styles!
Whether you are in search of Eco-friendly pen­cils, soy crayons, smen­cils, coloured pen­cils, banana paper note­books, wash­able mark­ers, recy­cled paper sketch­books and jour­nals…Stubby Pen­cil Stu­dio has eco friendly sup­plies for your lit­tle ones!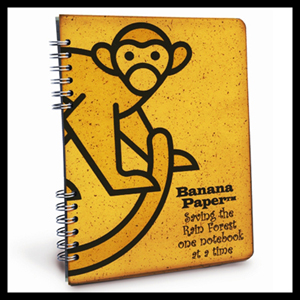 As far as eco-supplies go Stubby Pen­cil Stu­dio has rea­son­able prices no mat­ter what time of year it is! A big hit are the Smen­cils and the Mon­key pencils!
"Smart Smen­cils are pen­cils made from 100% recy­cled news­pa­per and scented with pep­per­mint. Sci­ence has con­firmed it: the scent of pep­per­mint stim­u­lates brain activ­ity and improves con­cen­tra­tion. Recent stud­ies showed increased test scores in chil­dren who were exposed to the scent of pep­per­mint dur­ing test­ing. Give your brain a boost!"
Mon­key pen­cils are made from rub­ber wood and fin­ished with non-toxic color.

Absolutely EVERYTHING that the Stubby Pen­cil Stu­dio car­ries is eco-friendly, eco chic, and so much fun!!
I am a HUGE fan of Stubby Pen­cil Stu­dio as it fea­tures some of the most awe­some eco-friendly sta­tionery prod­ucts that I've seen around yet!
Apart from the fact that all the prod­ucts are healthy for chil­dren and the envi­ron­ment, they are also rea­son­ably priced! What bet­ter way to pro­mote Green Liv­ing  to kids then by intro­duc­ing envi­ron­men­tal friendly sta­tionery to them? Visit Stubby Pen­cil Stu­dio and check out the great prod­ucts available!
Win it!!
Just in time for Easter, The extremely kind and gen­er­ous folks over at Stubby Pen­cil Stu­dio has offered to give one lucky Cool­Canucks reader the chance to win an Eco-Easter Bas­ket in one of two choices! Choose from either their Wildlife bas­ket, or their Lady­bug Bas­ket! These are so wonderful!!
To Enter:
*****Let me explain on how to enter here as alot of peo­ple are not fol­low­ing the rules, and their entries are sim­ply being deleted! I am sorry to say this but, if you can­not fol­low my rules here, then your com­ments are sim­ply deleted. It's not hard to do these 3 easy things!!*****
1)  Head on over to Stubby Pen­cil Stu­dio and tell me what you would love to have most from their won­der­ful store!
2) You MUST ALSO SUBSCRIBE to Cool­Canucks Blog (right hand-side) via email! (You must ver­ify the sub­scrip­tion in your email too, as I will check! Not ver­i­fied = dis­qual­i­fi­ca­tion, sorry!) Leave me which email addy you sub­scribed with in your com­ment and SAY I SUBSCRIBED VIA EMAIL!
 
3) And thirdly for any entries to count, fol­low Cool­Canucks Via Google Friend Con­nect!! TELL ME THAT YOU FOLLOW COOLCANUCKS VIA GOOGLE FRIEND CONNECT IN A COMMENT! SORRY FOR THE CAPS, BUT ALOT OF PEOPLE DON'T KNOW HOW TO FOLLOW OR READ RULES AND I HAVE TO GET THEIR ATTENTION SOMEHOW!!!!!
******************If you don't do the top 3, then your com­ments will be DELETED, plain and simple************************************
 
————->The Above is MANDATORY before any extra entries count. <—————
EXTRA ENTRIES: (Optional, these are there for you just in case you would like more chances of winning!!)
Fol­low @coolcanucks on Twit­ter! Leave me your twit­ter name!
Tweet this con­test link­ing to @coolcanucks  and Stubby Pen­cil Stu­dio! Leave me the Sta­tus Link to your tweet! *Do this ONLY MAXIMUM of ONCE a day, and leave a com­ment each time with the Tweet Sta­tus Link* (Please note, there is a NEW Retweet but­ton added below this post – you may also use that for a quick and easy tweet – be sure to leave me the sta­tus link though!)
 Become a Reg­is­tered Cool­Canucks Mem­ber in our forum and leave me your user­name there!
Blog, Stum­ble, Digg or share this give­away on any open pub­lic forum and leave me the link to it! +5, leave 5 comments
Grab our Cool­Canucks but­ton located to the right of the blog. +5, leave 5 comments
 
Sub­scribe to Cool­Canucks RSS Feed! + 2 leave 2 comments
 
Refer a friend to Cool­Canucks Forum – do not sign your­self up and cheat, I can check IP's! Tell me who the refer­ral is, and earn 10 extra entries at once!
 
Pur­chase any­thing from Stubby Pen­cil Stu­dio for the dura­tion of the give­away and get 10 extra entries!! Just tell me in a comment!
**Give­away open to both Canada & US and expires on March 17th, 2010**
A HUGE thank you to Stubby Pen­cil Stu­dio for spon­sor­ing us with this GREAT Con­test here at CoolCanucks!!
  Con­grats to #228
228
Cor­rie Gompf
March 17th, 2010 at 12:59 am
3 Stum­bled: clgompf
Tags: canada, canada contest, canada contests, canadian contest, canadian contests, Canadian giveaways, canadian online contests, contest, contests, contests canada, CoolCanucks Blog Contest, CoolCanucks Blog Contest ~ Stubby Pencil Studio Review & Giveaway, coolcanucks giveaway, enter, free canadian contests, free canadian giveaways, Stubby Pencil Studio, Stubby Pencil Studio Review, Stubby Pencil Studio Review & Giveaway, win, win canadian contests, win canadian prizes, win prizes