Posted on December 23rd, 2009 by roxxyroller in Giveaways Canada.
We know too much plas­tic ruins the earth. And plas­tics con­tain­ing BPA ruin our health.
BPA is short for bisphe­nol A, and stud­ies have shown that it can cause can­cer and other med­ical ill­nesses in ani­mals.
Well, some com­pa­nies are pio­neer­ing the move to BPA-free prod­ucts, to keep us humans safe.
We've seen ref­er­ence to the dan­gers plas­tic poses to marine life and wildlife, garbage that we humans directly and indi­rectly deposit in the oceans or on the earth, but how clearly have we received the mes­sage? Not clearly enough it seems!
Once ani­mals, marine life or wildlife ingest plas­tic, thou­sands of spines lin­ing the throat and esoph­a­gus make it nearly impos­si­ble to regur­gi­tate. The plas­tic can lead to par­tial or even com­plete obstruc­tion of the gas­troin­testi­nal tract, result­ing in decreased diges­tive effi­ciency, ener­getic and repro­duc­tive costs and, for some, starvation.
Plas­tics inges­tion doesn't always cause death, but there are clearly health risks!
The frus­trat­ing, yet hope­ful aspect is that humans can eas­ily begin address­ing the solu­tion, with­out major lifestyle changes.
It's as sim­ple as reduc­ing pack­ag­ing and mov­ing towards alter­na­tive, biodegrad­able mate­ri­als and recycling.
And this is why I am cer­tainly grate­ful for the com­pany called "Life With­out Plas­tic"!!
About this won­der­ful com­pany, a blurb from their website:
Who We Are: Activists for a Plas­tic Free Planet     

"We launched Life With­out Plas­tic ("LWP") in 2006 after sev­eral years of day­dream­ing about how to make a con­tri­bu­tion to reduc­ing the large quan­ti­ties of plas­tic that are con­sumed every sec­ond of every day around the world.  We played with ideas for rais­ing aware­ness about the issue. 
We wanted to address the envi­ron­men­tal dis­as­ter that the con­sump­tion of plas­tic is caus­ing, and the dam­age that leach­ing plas­tic can cause to human and ani­mal health.  We quickly real­ized that before we could effec­tively help peo­ple reduce their plas­tic con­sump­tion, we had to be able to point them toward non-plastic alter­na­tives that could replace the plas­tic items cur­rently used in day-to-day life.  When Life With­out Plas­tic was cre­ated, very few alter­na­tives existed in the North Amer­i­can mar­ket, espe­cially for food and drink con­tain­ers.  Our son was born in 2003, and he was the cat­a­lyst. 
He made us look more actively for alter­na­tives in North Amer­ica and in other coun­tries around the world.  This is how Sanc­tus Mundo, our unique prod­uct brand, came into existence.
Fast for­ward three years to 2009 and here we are.  There are now many more alter­na­tives to plas­tic prod­ucts avail­able thanks, for exam­ple, to the tremen­dous media atten­tion on bisphe­nol A over the past two years.  Yet one thing we are notic­ing is that the qual­ity of these alter­na­tives varies sig­nif­i­cantly.  There are some won­der­ful new prod­ucts cre­ated with a real con­cern for qual­ity, health, the envi­ron­ment, and work­ers con­di­tions.
But there are other prod­ucts out there that are unsafe.  For exam­ple, not all stain­less steel is cre­ated equal, and as with many things, price is often an indi­ca­tor of quality.
As we con­tinue to ful­fill our goal of mak­ing avail­able more and more high qual­ity alter­na­tives to plas­tic prod­ucts, we are now able to begin focus­ing increased atten­tion on an equally impor­tant ele­ment of our mis­sion:  rais­ing aware­ness about plas­tics issues by pro­vid­ing solid sci­ence– and experience-based infor­ma­tion and show­ing peo­ple, one per­son at a time, the beauty and sim­plic­ity of a life with­out plastic."
Chan­tal & Jay
Co-Founders & Co-Owners
This great com­pany car­ries all sorts of alter­na­tives to plas­tic, mak­ing the envi­ron­ment such a bet­ter place.
They sell all kind of sweet prod­ucts, including:
Bags
Child and Baby Prod­ucts
Food Stor­age
Non-Plastic Toys
Table­ware
Water Stor­age
I was sent to review, a Stain­less Steel Air­tight Water­tight Food Stor­age Con­tainer as well as a Stain­less Steel Hot Meal Con­tainer which are both phe­nom­i­nal!! Both work EXCELLENT! Ask hubby, he robbed them for work and wants to order more in other sizes!!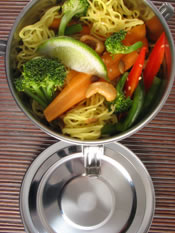 Such high qual­ity prod­ucts at extremely low prices!! I would rec­om­mend this com­pany to any­one, you just can­not go wrong with Life With­out Plas­tic!
The very kind and gen­er­ous folks over at Life With­out Plas­tic wants to give 1 lucky Cool­Canucks reader the chance to win the exact same 2 items that I was sent to review! You will be just as pleased as I am with these awe­some prod­ucts and will want to order more!!
 To Enter:
*****Let me explain on how to enter here as alot of peo­ple are not fol­low­ing the rules, and their entries are sim­ply being deleted! I am sorry to say this but, if you can­not fol­low my rules here, then your com­ments are sim­ply deleted. It's not hard to do these 3 easy things!!*****
1) Head on over to Life With­out Plas­tic and tell me in a com­ment what item or items that you love best!
  2) You MUST ALSO SUBSCRIBE to Cool­Canucks Blog (right hand-side) via email! (You must ver­ify the sub­scrip­tion in your email too, as I will check! Not ver­i­fied = dis­qual­i­fi­ca­tion, sorry!) Leave me which email addy you sub­scribed with in your com­ment and SAY I SUBSCRIBED VIA EMAIL!
 
3) And thirdly for any entries to count, fol­low Cool­Canucks Via Google Friend Con­nect!! TELL ME THAT YOU FOLLOW COOLCANUCKS VIA GOOGLE FRIEND CONNECT IN A COMMENT! SORRY FOR THE CAPS, BUT ALOT OF PEOPLE DON'T KNOW HOW TO FOLLOW OR READ RULES AND I HAVE TO GET THEIR ATTENTION SOMEHOW!!!!!
******************If you don't do the top 3, then your com­ments will be DELETED, plain and simple************************************
 
————->The Above is MANDATORY before any extra entries count. <—————
EXTRA ENTRIES: (Optional, these are there for you just in case you would like more chances of winning!!)
Fol­low @coolcanucks on Twit­ter! Leave me your twit­ter name!
Tweet this con­test link­ing to @coolcanucks and Life With­out Plas­tic! Leave me the Sta­tus Link to your tweet! *Do this ONLY MAXIMUM of ONCE a day, and leave a com­ment each time with the Tweet Sta­tus Link*
Become a Face­book Fan of Life With­out Plas­tic! Leave me your Face­book name please.
Become a Reg­is­tered Cool­Canucks Mem­ber in our forum and leave me your user­name there!
Blog, Stum­ble, Digg or share this give­away on any open pub­lic forum and leave me the link to it! +5, leave 5 comments
Grab our Cool­Canucks but­ton located to the right of the blog. +5, leave 5 comments
 
Sub­scribe to Cool­Canucks RSS Feed! + 2 leave 2 comments
 
Refer a friend to Cool­Canucks Forum – do not sign your­self up and cheat, I can check IP's! Tell me who the refer­ral is, and earn 10 extra entries at once!
 
Pur­chase any­thing from Life With­out Plas­tic for the dura­tion of the give­away and get 10 extra entries!! Just tell me in a comment!
**Give­away open to both Cana­dian as well as US Res­i­dents and expires on Feb­ru­ary 25th, 2010**
A HUGE thank you to Life With­out Plas­tic for spon­sor­ing us with this GREAT Con­test here at CoolCanucks!!
Con­grats to #617
617
EDIT COMMENT 

Jen­niferB
Feb­ru­ary 25th, 2010 at 3:36 pm 

fol­low­ing you on twit­ter– jblanton41
Tags: CoolCanucks Blog Contest, CoolCanucks Blog Contest ~ Life Without Plastic Review & Giveaway, Life Without Plastic Review & Giveaway