Posted on September 19th, 2012 by roxxyroller in CoolCanucks Blog Contest, Giveaways Canada.
Back in 2009 I dis­cov­ered a phe­nom­e­nal com­pany called Life with­out Plas­tic when I had the oppor­tu­nity of doing a review and give­away with them. They sent me a Stain­less Steel Air­tight Water­tight Food Stor­age Con­tainer as well as a Stain­less Steel Hot Meal Con­tainer to test out, and these 2 prod­ucts are still used at my house to this day! These prod­ucts rock, period!!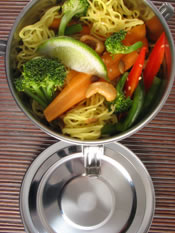 We know too much plas­tic ruins the earth. And plas­tics con­tain­ing BPA ruin our health. BPA is short for bisphe­nol A, and stud­ies have shown that it can cause can­cer and other med­ical ill­nesses in ani­mals. Well, some com­pa­nies are pio­neer­ing the move to BPA-free prod­ucts, to keep us humans safe.
We've seen ref­er­ence to the dan­gers plas­tic poses to marine life and wildlife, garbage that we humans directly and indi­rectly deposit in the oceans or on the earth, but how clearly have we received the mes­sage? Not clearly enough it seems!
Once ani­mals, marine life or wildlife ingest plas­tic, thou­sands of spines lin­ing the throat and esoph­a­gus make it nearly impos­si­ble to regur­gi­tate. The plas­tic can lead to par­tial or even com­plete obstruc­tion of the gas­troin­testi­nal tract, result­ing in decreased diges­tive effi­ciency, ener­getic and repro­duc­tive costs and, for some, starvation.
Plas­tics inges­tion doesn't always cause death, but there are clearly health risks! The frus­trat­ing, yet hope­ful aspect is that humans can eas­ily begin address­ing the solu­tion, with­out major lifestyle changes. It's as sim­ple as reduc­ing pack­ag­ing and mov­ing towards alter­na­tive, biodegrad­able mate­ri­als and recycling.
And this is why I am cer­tainly grate­ful for "Life With­out Plas­tic"!!
About this won­der­ful com­pany, a blurb from their web­site:
Who We Are: Activists for a Plas­tic Free Planet
"We launched Life With­out Plas­tic ("LWP") in 2006 after sev­eral years of day­dream­ing about how to make a con­tri­bu­tion to reduc­ing the large quan­ti­ties of plas­tic that are con­sumed every sec­ond of every day around the world.  We played with ideas for rais­ing aware­ness about the issue. We wanted to address the envi­ron­men­tal dis­as­ter that the con­sump­tion of plas­tic is caus­ing, and the dam­age that leach­ing plas­tic can cause to human and ani­mal health.  We quickly real­ized that before we could effec­tively help peo­ple reduce their plas­tic con­sump­tion, we had to be able to point them toward non-plastic alter­na­tives that could replace the plas­tic items cur­rently used in day-to-day life.  When Life With­out Plas­tic was cre­ated, very few alter­na­tives existed in the North Amer­i­can mar­ket, espe­cially for food and drink con­tain­ers.  Our son was born in 2003, and he was the cat­a­lyst. He made us look more actively for alter­na­tives in North Amer­ica and in other coun­tries around the world.  This is how Sanc­tus Mundo, our unique prod­uct brand, came into existence.
Fast for­ward three years to 2009 and here we are.  There are now many more alter­na­tives to plas­tic prod­ucts avail­able thanks, for exam­ple, to the tremen­dous media atten­tion on bisphe­nol A over the past two years.  Yet one thing we are notic­ing is that the qual­ity of these alter­na­tives varies sig­nif­i­cantly.  There are some won­der­ful new prod­ucts cre­ated with a real con­cern for qual­ity, health, the envi­ron­ment, and work­ers con­di­tions. But there are other prod­ucts out there that are unsafe.  For exam­ple, not all stain­less steel is cre­ated equal, and as with many things, price is often an indi­ca­tor of quality.
As we con­tinue to ful­fill our goal of mak­ing avail­able more and more high qual­ity alter­na­tives to plas­tic prod­ucts, we are now able to begin focus­ing increased atten­tion on an equally impor­tant ele­ment of our mis­sion:  rais­ing aware­ness about plas­tics issues by pro­vid­ing solid sci­ence– and experience-based infor­ma­tion and show­ing peo­ple, one per­son at a time, the beauty and sim­plic­ity of a life with­out plastic."
This great com­pany car­ries all sorts of alter­na­tives to plas­tic, mak­ing the envi­ron­ment such a bet­ter place.
They sell all kind of sweet prod­ucts, including:
Bags
Child and Baby Products
Food Stor­age
Non-Plastic Toys
Table­ware
Water Stor­age
This time around they sent me some fan­tas­tic Freezy­cup™ Ice Pop Molds to try out and as per usual, Life with­out Plas­tic did not disappoint!!
Sum­mer at the Diotte house­hold means refresh­ing pop­si­cle time. We eat pop­si­cles all through­out the day and the evening. We devour them when we're blaz­ing from the hot sum­mer sun, like we have been for most of this sum­mer. We chow on pop­si­cles at any old time because they are refresh­ing, fun, and when they're not loaded with sugar and arti­fi­cial food colour­ing like the ones you might buy in the store, they're very healthy and also an eco-friendly sooth­ing snack for peo­ple both young and old!
These Freezy­cup™ Ice Pop Molds are made of stain­less steel and come with three reusable bam­boo sticks and two sil­i­cone gas­kets each.
Pop­si­cles are one of the eas­i­est make-it-yourself treats both because they're quick (not count­ing freez­ing time), and because they use up fruit that might be too ripe to eat but very easy to puree. All you need to make pop­si­cles is:
* Life with­out Plas­tic Freezy­cup™ Ice Pop Molds
* a mix­ture of what­ever tin­kles your fancy, (what­ever you would like to eat in your popsicle)
* a blender of some sort to puree the ingre­di­ents so you can pour them into your Freezy­cup™ Ice Pop Molds; and
* a fun­nel so you can eas­ily pour the puree into these awe­some Ice Pop Molds.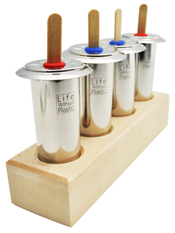 These are the best Freezy­cup™ Ice Pop Molds by far that we have ever tried! No more shop­ping for super­mar­ket pop­si­cles now thanks to these molds from Life with­out Plas­tic! They rock!!!!!
♥→I received prod­uct for review. The opin­ions within this post are of my own and I was not influ­enced in any way. Please do your own research before pur­chas­ing prod­ucts. Your opin­ions and results may dif­fer than mine.←♥
Win It!! Enter my sweep­stakes give­away below for a chance to win 2 indi­vid­ual Freezy­cup™ Ice Pop Molds! Open to Cana­dian & US res­i­dents only.
How to enter: All entries must be sub­mit­ted using the Raf­fle­copter form below. After you com­plete the easy manda­tory entry, you can do as many bonus entries as you'd like to increase your chances of win­ning. I will be check­ing for dupli­cate entries to make sure it's fair, and no cheat­ing will be tolerated!
Such high qual­ity prod­ucts at extremely low prices!! I would rec­om­mend this com­pany to any­one, you just can­not go wrong with Life With­out Plas­tic!
Tags: best Freezycup™ Ice Pop Molds, Blog Contest, canada, canada contest, canada contests, canadian contest, canadian contests, Canadian giveaways, canadian online contests, contest, contests, contests canada, coolcanucks, CoolCanucks Blog, CoolCanucks Blog Contest, CoolCanucks Blog Contest ~ Life Without Plastic Review & Giveaway, coolcanucks giveaway, enter, free canadian contests, free canadian giveaways, Freezycup™ Ice Pop Molds, Life without Plastic, Life Without Plastic Review & Giveaway, online canadian contests, win, win canadian contests, win canadian prizes, win prizes