Posted on May 15th, 2012 by roxxyroller in CoolCanucks Blog Contest, Giveaways Canada.
With the large rise in pop­u­lar­ity of des­ti­na­tion & beach wed­dings, Island Importer has been the most pop­u­lar choice for men, women and chil­dren when in search of the most per­fect beach wed­ding attire. It is so easy to choose the best qual­ity pre­made or cus­tom made cloth­ing as they have such an exten­sive array of all-natural fab­rics like linen, silk, and cot­ton. Also, their cloth­ing is avail­able in a huge vari­ety of colours. You can visit their swatches page to see 47 of their phe­nom­e­nal colour choices!
At Island Importer you will find the per­fect cloth­ing apparel for a des­ti­na­tion beach wed­ding. There are excel­lent qual­ity and designs avail­able to suit each indi­vid­ual taste. Choose from their col­lec­tion of linen shirts, draw­string linen pants, linen dress pants, shorts, cot­ton shirts, and cot­ton pants for men. Also, check out their col­lec­tion of nat­ural fiber, island-style, cot­ton and linen pants, shirts, skirts, tunics and san­dals for women. Look no fur­ther as they also carry a col­lec­tion of lit­tle boys cloth­ing, and they also have a selec­tion of yoga wear for men and women in com­fort­able cot­tons and form-fitting stretch jer­seys and lycras; ideal cloth­ing for any yoga prac­tice!! From top to bot­tom, they will proudly dress you up!!

I also really adored their awe­some leather beach san­dals and foot jew­elry!!
Per­haps you are plan­ning a non-wedding beach vaca­tion and are in search of the best beach cloth­ing out there? Island Importer also car­ries high qual­ity cloth­ing designed espe­cially for the beach so look no further!!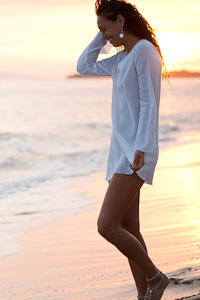 I espe­cially adore all of the brides and brides­maids dresses, they are like no other that I have ever seen! Also for the groom, just wait until she sees how ele­gant and hand­some you look!! This wed­ding apparel is espe­cially suited for the bride, brides­maid, flower girl, ring­bearer, groom, grooms­men, or even for guests!! There is def­i­nitely some­thing here for every­one!! And even bet­ter? All of this fine cloth­ing is avail­able in a wide ensem­ble of sizes as well!
Island Importer sent me two very high-quality men's shirts for hubby who thinks that they are so classy! I was also very impressed as these are shirts that would usu­ally be in the $200+ range, but yet so rea­son­ably priced on the Island Importer web­site!! The ever-popular Linen Amalfi Shirt was sent to us to review in a breath-taking french blue, and the 2nd one was a Gauze Lanai Shirt which is a casual Asian style pullover in light­weight, loose weave, gauze linen blend in the stun­ning colour Bayleaf! You hon­estly have to see these shirts up close and in per­son, the pic­tures on the Island Importer web­site look great but really don't do this cloth­ing justice!!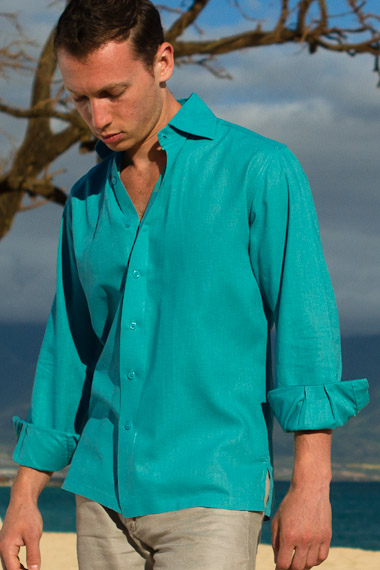 Island Importer gets a HUGE thumbs up from Cool­Canucks, and I hon­estly truly rec­om­mend this fan­tas­tic com­pany to every­one!! Their cus­tomer ser­vice skills as well as deliv­ery time were also beyond outstanding!!!!!
♥→I received prod­uct for review.  The opin­ions within this post are of my own and I was not influ­enced in any way.  Please do your own research before pur­chas­ing prod­ucts.  Your opin­ions and results may dif­fer than mine.←♥
Buy It! Pur­chase all of this amaz­ing beach cloth­ing at Island Importer
Win It!! Enter my sweep­stakes give­away below for a chance to win a $75 E-certificate! Open to both Cana­dian as well as US Residents
How to enter: All entries must be sub­mit­ted using the Raf­fle­copter form below. After you com­plete the easy manda­tory entry, you can do as many bonus entries as you'd like to increase your chances of win­ning. I will be check­ing for dupli­cate entries to make sure it's fair, and no cheat­ing will be tolerated!
Tags: beach wedding, Beach Wedding Apparel, best beach clothing, Blog Contest, bridesmaids dresses, canada, canada contest, canada contests, canadian contest, canadian contests, Canadian giveaways, canadian online contests, contest, contests, contests canada, coolcanucks, CoolCanucks Blog, CoolCanucks Blog Contest, CoolCanucks Blog Contest ~ Island Importer Beach Wedding Apparel Review & Giveaway, coolcanucks giveaway, destination & beach weddings, enter, foot jewelry, free canadian contests, free canadian giveaways, Gauze Lanai Shirt, Island Importer, Island Importer Beach Wedding Apparel, leather beach sandals, Linen Amalfi Shirt, online canadian contests, win, win canadian contests, win canadian prizes, win prizes, yoga wear