Posted on October 24th, 2010 by roxxyroller in Giveaways Canada.

Tracy is an apparel designer and mother of two girls. A few years ago, her life changed when she and her fam­ily began fol­low­ing an organic life style.
She found that it gave us tremen­dous energy, both phys­i­cally and men­tally. Tak­ing care of our health and pro­tect­ing the nat­ural envi­ron­ment felt great. Feel­ing inspired to share this good con­cept with every­one, she started Ecoland Inc.
"Our first brand for babies, "Ecoland for Angel", is made exclu­sively from the high­est qual­ity 100% organ­i­cally grown cot­ton, which is cer­ti­fied by SKAL. All of our gar­ments are sus­tain­able processed and sewn in a sweatshop-free envi­ron­ment.  Our next lines, "Ecoland for Kids", "Ecoland for Her", and "Ecoland for Him" are made with the same high stan­dard as our baby brand.
Our phi­los­o­phy at Ecoland is based on sim­plic­ity. This is reflected in our line, which is pure and clean, with­out unnec­es­sary print­ing, trim­ming, embroi­deries, and appliqués, etc. Ecoland pro­duces qual­ity prod­ucts that will never go out of fashion.
Per­son­ally, I have been deeply involved in char­ity and social well­ness vol­un­teer activ­i­ties, espe­cially in the envi­ron­men­tal pro­tec­tion area.  I believe that liv­ing an organic lifestyle is the most impor­tant thing we can do to help pro­tect our health and envi­ron­ment. I sin­cerely invite you to join us to pre­serve our mother earth!"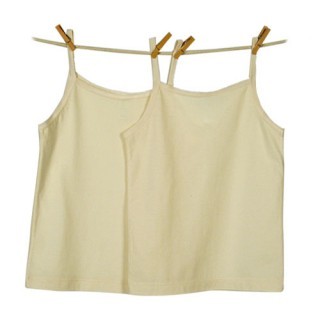 Have you ever actu­ally felt 100% organic cot­ton clothes? They are unbe­liev­ably soft. And, just the mere fact of know­ing you have done the envi­ron­ment some good gives you a sense of respon­si­bil­ity. Organic cot­ton clothes are made from organic cot­ton, which is cot­ton pro­duced, or har­vested, with­out any pes­ti­cides, chem­i­cal fer­til­iz­ers, or genet­i­cally mod­i­fied (GMO) seeds.
Peo­ple buy organic clothes for a lot of dif­fer­ent rea­sons. Some peo­ple buy organic cloth­ing because it makes them feel bet­ter know­ing that they are doing some­thing main­tain their health and the plan­ets health. Oth­ers buy them because they pos­sess more aes­thetic appeal. The dif­fer­ence between nat­ural fab­ric and unnat­ural fab­ric is the way it has been grown. Cot­ton that is grown with the use of pes­ti­cides is con­sid­ered unhealthy and haz­ardous to the envi­ron­ment and human health in general.
When peo­ple use pes­ti­cides to grow their plants, they are harm­ing more than many of us real­ize. The chem­i­cals from pes­ti­cides can eas­ily seep into the ground and get into our drink­ing water, which is why there are so many warn­ings about drink­ing tap water. Every­one should buy organic cloth­ing because it helps to make a state­ment to sell­ers. Did you know that cot­ton is cur­rently the most widely sprayed crop in the world? There is no other plant in exis­tence that is as weighed down with pes­ti­cides as cotton.
Ecoland Inc car­ries all sorts of phe­nom­e­nal eco-friendly and eco-chic styles of cloth­ing. Choose from many dif­fer­ent pieces of Organic cloth­ing such as bras, tank tops, socks, under­wear, draw­string pants, gloves and so much more all for babies, chil­dren, men and women! Every­thing is so rea­son­ably priced and neatly cat­e­go­rized on their web­site to make shop­ping with them a com­plete snap!!
Ecoland Inc. sent me a GORGEOUS Women's pam­per your­self gift set which con­sists of a 4 piece set of organic cot­ton pajama set (Top and bottom's) as well as
organic mois­tur­iz­ing socks and gloves all in the colour Nat­ural. They are so com­fort­able and unbe­liev­ably soft to the touch — you feel just like a princess when wear­ing them!!
• pam­per your­self with our comfy organic cot­ton pajama set
• comes with organic mois­tur­iz­ing socks and gloves
• per­fect for bed­time or every­day wear
• makes great gift for any occa­sion
• pack­aged in sim­ple & ele­gant card­board box with satin rib­bon & gift tag
• machine wash­able
• made in USA (pajama) & imported (socks/gloves)
I am beyond impressed with all of what Ecoland Organic Cloth­ing car­ries, and am now sold on this great com­pany! I give them a huge thumbs up, and rec­om­mend them to everyone!!
The very kind and gen­er­ous folks over at Ecoland Organic Cloth­ing have gra­ciously offered to give one VERY lucky Cool­Canucks reader the chance to win this fab­u­lous Women's pam­per your­self gift set as well! SWEET!!
To Enter:
1) Head on over to Ecoland Organic Cloth­ing and pick out the prod­uct there that you love most and then please leave a com­ment here!
————->The Above is MANDATORY before any extra entries count. <—————
*****EXTRA ENTRIES: (Optional, these are there for you just in case you would like more chances of win­ning!!)********** Leave com­ments all in one com­ment box, or in sep­a­rate boxes, that is totally up to you! Note: All entries left in one box only counts as one entry so your choice!****************
•SUBSCRIBE to Cool­Canucks Blog (right hand-side of blog) via email. (You must ver­ify the sub­scrip­tion in your email too, as I will check! Not ver­i­fied = dis­qual­i­fi­ca­tion, sorry!) Leave me which email addy you sub­scribed with in your com­ment please.
•Fol­low Cool­Canucks Via Google Friend Con­nect – this is also on the right hand side of my blog.
•Fol­low @coolcanucks and @ecoland on Twit­ter! Leave me your twit­ter name!
•Tweet this con­test. Leave me the Sta­tus Link to your tweet! **NOW UNLIMITED TWEETS DAILY!!* and leave a com­ment each time with the Tweet Sta­tus Link**
•(Please note, there is a NEW Retweet but­ton added below this post – you may also use that for a quick and easy tweet – be sure to leave me the sta­tus link though!)
•Become a Reg­is­tered Cool­Canucks Mem­ber in our forum and leave me your user­name there!
•Become a Fan of Ecoland Organic Cloth­ing on Face­book and leave a com­ment on their wall that you came from Cool­Canucks!
•Blog, Stum­ble, Digg or share this give­away on any open pub­lic forum and leave me the link to it! +5, leave 5 comments
•Grab our Cool­Canucks but­ton located to the right of the blog. +5, leave 5 comments

•Sub­scribe to Cool­Canucks RSS Feed! + 2 leave 2 comments
•Pur­chase any­thing from Ecoland Organic Cloth­ing for the dura­tion of the give­away and get 10 extra entries!! Just tell me in a comment!

**Give­away open to both US & CANADA and expires on Novem­ber 24th, 2010**
A HUGE thank you to Ecoland Organic Cloth­ing for spon­sor­ing us with this GREAT Con­test here at CoolCanucks!!
736
EDIT COMMENT

Doreen Riopel
Novem­ber 24th, 2010 at 5:08 pm

nov 24th tweet
http://twitter.com/DoreenRiopel/status/7555872465092608
Tags: Baby clothes, bras, canada, canada contest, canada contests, canadian contest, canadian contests, Canadian giveaways, canadian online contests, child clothing, contest, contests, contests canada, CoolCanucks Blog Contest, CoolCanucks Blog Contest - Ecoland Organic Clothing Women's pamper yourself gift set Review & Giveaway, coolcanucks giveaway, distributor / services, drawstring pants, eco-friendly, Ecoland, Ecoland Inc, Ecoland Organic Clothing, Ecoland Organic Clothing Women's pamper yourself gift set, enter, Fair Trade and Organic Clothing, free canadian contests, free canadian giveaways, gloves, Mens / womens clothing & accessories, online canadian contests, organic cotton, Organic Cotton Clothing, Organic Cotton Clothing & Underwear, Organic Cotton Clothing & Underwear for baby women men's, Organic manufacturer, Organic pieces of clothing, Socks, tank tops, underwear, win, win canadian contests, win canadian prizes, win prizes, womens organic bra