Posted on February 27th, 2010 by roxxyroller in Giveaways Canada.
Wel­come to my dream world, a world filled with creamy lus­cious mouth-watering choco­late 24 hours a day, 7 days a week!
Let me have the plea­sure of intro­duc­ing you to Chocomize, where all of the scrump­tious cus­tom choco­late just can't taste any better!!
Imag­ine the best piece of choco­late you have ever had. Now try and imag­ine if you could take your favorite choco­late (dark, milk or white) and add any ingre­di­ents you want to it to make it the "per­fect" choco­late bar for you? What would your choco­late bar include?
Well Chocomize makes your dreams a real­ity, because you can do just that! You can choose any type of choco­late your fan­tasy mind desires, add any type of ingre­di­ent, and voila! Chocomize will make you your dream choco­late bar and send it right to your home!!
You can choose exactly what you would like to add to your choco­late bar, or pre-order their hot best sell­ers listed directly from their site at extremely low unbeat­able prices!
Chocomize allows you to cre­ate your per­fect choco­late bar using a large assort­ment of fruits, nuts, herbs, can­dies and other mis­cel­la­neous goodies!!
Look­ing for the per­fect choco­late bar to be used as Wed­ding Favors? Chocomize is an expert!! How about Choco­late Cor­po­rate Gifts? What an excel­lent idea! Chocomize can spe­cially design them for you as well! The ideas are end­less at Chocomize!!!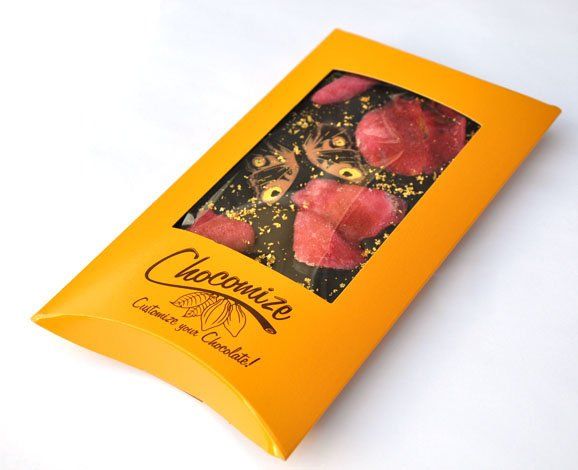 You can even give a Chocomize choco­late bar as a birth­day gift. One of the ingre­di­ent options is a sugar can­dle holder that you can insert a can­dle into and sing "Happy Birth­day" to the lucky recip­i­ent. What a unique and won­der­ful idea!!
Cre­at­ing a "Chocomized" choco­late bar is super easy. You first need to select the base choco­late (dark, milk or white). Then you add up to five dif­fer­ent ingre­di­ents from all the avail­able options. Each option shows it's indi­vid­ual price so you can keep track of the over­all cost of your Chocomize choco­late bar in case you are work­ing with a bud­get. You can cre­ate a choco­late bar for just over $5.00 (plus ship­ping) upward to around $15.00 if you opt to use the most expen­sive ingre­di­ents like the gold flakes. Ingre­di­ents range in price from .25 cents to $3.95 with most ingre­di­ents in the .25 — .75 range.
Chocomize let me review two of my own choco­late bars! I first chose the dreamy milk-chocolate, and my first one included macadamia nuts (YUM)! The sec­ond one I wanted to try was their ever pop­u­lar choco­late bar called "That's Nuts" which includes Dark Choco­late, Pecan Halves, Wal­nuts, But­ter Toasted Peanuts, and Hazel­nuts! And wow — both choco­late bars were extremely tan­tiliz­ing to the taste buds!!
Over­all I am very impressed. The choco­late was fresh tast­ing since each choco­late bar is made fresh for each order. They didn't "skimp" on the ingre­di­ents. The choco­late had more than enough extra good­ies. I am also pleased with the large size of the choco­late bar!
The com­pany was quick to ship and even included the ingre­di­ents on each bar as well as the nutri­tion facts.
I can hon­estly say I am now a huge fan of Chocomize. I know I will be order­ing from them in the future. With Easter com­ing I know that a Chocomize bar would make a great gift or goodie tucked into an Easter basket!!
Win it!!
The extremely kind and gen­er­ous folks over at Chocomize has offered to give one lucky Cool­Canucks reader the chance to win a $25 E-certificate from their online web­site!! AWESOME!! 
Also, if you would like to pur­chase any­thing from Chocomize, they have also set us up a coupon code! Sim­ply use code 'cool­canuck' in the coupon sec­tion of the check­out to save $5.00 off of your order!!
To Enter:
*****Let me explain on how to enter here as alot of peo­ple are not fol­low­ing the rules, and their entries are sim­ply being deleted! I am sorry to say this but, if you can­not fol­low my rules here, then your com­ments are sim­ply deleted. It's not hard to do these 3 easy things!!*****
1)  Head on over to Chocomize and tell me what your dream choco­late bar would be made of!
2) You MUST ALSO SUBSCRIBE to Cool­Canucks Blog (right hand-side) via email! (You must ver­ify the sub­scrip­tion in your email too, as I will check! Not ver­i­fied = dis­qual­i­fi­ca­tion, sorry!) Leave me which email addy you sub­scribed with in your com­ment and SAY I SUBSCRIBED VIA EMAIL!
 
3) And thirdly for any entries to count, fol­low Cool­Canucks Via Google Friend Con­nect!! TELL ME THAT YOU FOLLOW COOLCANUCKS VIA GOOGLE FRIEND CONNECT IN A COMMENT! SORRY FOR THE CAPS, BUT ALOT OF PEOPLE DON'T KNOW HOW TO FOLLOW OR READ RULES AND I HAVE TO GET THEIR ATTENTION SOMEHOW!!!!!
******************If you don't do the top 3, then your com­ments will be DELETED, plain and simple************************************
 
————->The Above is MANDATORY before any extra entries count. <—————
EXTRA ENTRIES: (Optional, these are there for you just in case you would like more chances of winning!!)
Fol­low @coolcanucks  and @Chocomize on Twit­ter! Leave me your twit­ter name!
Tweet this con­test link­ing to @coolcanucks  and @Chocomize! Leave me the Sta­tus Link to your tweet! *Do this ONLY MAXIMUM of ONCE a day, and leave a com­ment each time with the Tweet Sta­tus Link* (Please note, there is a NEW Retweet but­ton added below this post – you may also use that for a quick and easy tweet – be sure to leave me the sta­tus link though!)
 Become a Reg­is­tered Cool­Canucks Mem­ber in our forum and leave me your user­name there!
Blog, Stum­ble, Digg or share this give­away on any open pub­lic forum and leave me the link to it! +5, leave 5 comments
Grab our Cool­Canucks but­ton located to the right of the blog. +5, leave 5 comments
 
Sub­scribe to Cool­Canucks RSS Feed! + 2 leave 2 comments
 
Refer a friend to Cool­Canucks Forum – do not sign your­self up and cheat, I can check IP's! Tell me who the refer­ral is, and earn 10 extra entries at once!
 
Pur­chase any­thing from Chocomize for the dura­tion of the give­away and get 10 extra entries!! Just tell me in a comment!
**Give­away open to both Canada & US and expires on April 26th, 2010**
A HUGE thank you to Chocomize for spon­sor­ing us with this GREAT Con­test here at CoolCanucks!!
Con­grats to #13
13
susan var­ney
Feb­ru­ary 27th, 2010 at 1:13 pm
milk ccocolate,sliced almonds,banana chips, and gummi bears i eor­eilled the two other require­ments lons ago
Tags: canada, canada contest, canada contests, canadian contest, canadian contests, Canadian giveaways, canadian online contests, chocolate bar, chocolate corporate gifts, chocolate wedding favors, Chocomize, Chocomize Review, Chocomize Review & Giveaway, contest, contests, contests canada, CoolCanucks Blog Contest, CoolCanucks Blog Contest ~ Chocomize Review & Giveaway, coolcanucks giveaway, custom chocolate, enter, free canadian contests, online canadian contests, win, win canadian contests, win canadian prizes, win prizes