Posted on March 15th, 2010 by roxxyroller in Giveaways Canada.
Water is impor­tant to the mechan­ics of the human body. The body can­not work with­out it, just as a car can­not run with­out gas and oil. In fact, all the cell and organ func­tions made up in our entire anatomy and phys­i­ol­ogy depend on water for their functioning.
Water serves as a lubricant
Water forms the base for saliva
Water forms the flu­ids that sur­round the joints.
Water reg­u­lates the body tem­per­a­ture, as the cool­ing and heat­ing is dis­trib­uted through perspiration.
Water helps to alle­vi­ate con­sti­pa­tion by mov­ing food through the intesti­nal tract and thereby elim­i­nat­ing waste– the best detox agent.
Reg­u­lates metabolism
In addi­tion to the daily main­te­nance of our bod­ies, water also plays a key role in the pre­ven­tion of dis­ease. Drink­ing eight glasses of water daily can decrease the risk of colon can­cer by 45%, blad­der can­cer by 50% and it can poten­tially even reduce the risk of breast cancer. .
Since water is such an impor­tant com­po­nent to our phys­i­ol­ogy, it would make sense that the qual­ity of the water should be just as impor­tant as the quantity.
Drink­ing water should always be clean and free of con­t­a­m­i­nants to ensure proper health and wellness.
Thank good­ness for BelKraft!
"BelKraft orig­i­nally started serv­ing Ottawa and the East­ern Ontario region of Canada in 1965. Since then, we have grown inter­na­tion­ally and have estab­lished over half a mil­lion sat­is­fied customers.
With belkraft.com that fig­ure is grow­ing con­tin­u­ally and via the inter­net, BelKraft's fine qual­ity prod­ucts are now avail­able to any­one with Inter­net access. BelKraft's mis­sion is to pro­vide you with the tools you need to improve your health and the health of your fam­ily by puri­fy­ing your air and water, juic­ing daily, cook­ing the healthy, grease­less way and pro­vid­ing you with the high­est qual­ity prod­ucts at the low­est pos­si­ble price. As a fac­tory direct dis­trib­u­tor with no over­head or adver­tis­ing costs, belkraft.com has the prod­ucts you need at the price you can afford.
In brief, you should know the fol­low­ing about us: Our com­pany was estab­lished in 1965 and has been respon­si­ble for pro­vid­ing out­stand­ing health related prod­ucts ever since. Our spe­cial­ties are water and air purifi­ca­tion.
Our reg­u­lar clients par­tic­u­larly value our per­son­al­ized service."

BelKraft has an extremely exten­sive line of products!
Choose from:
Water­less cook­ware 
Water puri­fiers 
Air puri­fiers 
Juice Extrac­tors 
Fine china 
Crys­tal stemware 
Table­ware 
Cut­lery 
Food stor­age containers
A good water fil­tra­tion sys­tem installed in your home is the only way to proac­tively mon­i­tor and ensure the qual­ity and safety of your drink­ing water! Water purifi­ca­tion sys­tems can remove 90–99% of all con­t­a­m­i­nants from city and well water to deliver healthy drink­ing water for you and your fam­ily which is phenomenal!
All of BelKraft's water puri­fiers use a Doul­ton made four stage ceramic.
The BelKraft Health Division:
"BelKraft is an estab­lished Cana­dian leader in pro­vid­ing health and well­ness equip­ment of excep­tional qual­ity and value, excel­lent ongo­ing per­son­al­ized cus­tomer ser­vice and out­stand­ing life­time war­ranties and all at whole­sale prices to our thou­sands of sat­is­fied customers.
Mis­sion Statement:
To pro­tect the long term health and vital­ity of our cus­tomers and their fam­i­lies through edu­ca­tion and the pro­vi­sion of the world's best well­ness equip­ment, that pro­duces pure exhil­a­rat­ing pol­lu­tion free air, crys­tal clear pure water and nat­ural food burst­ing with flavour and full of nat­ural vit­a­mins and min­er­als.
Essen­tial ingre­di­ents for a vibrant life.
To show our cus­tomers how they can look and feel bet­ter, live longer health­ier lives and save time and money every day with equip­ment that quickly pays for itself and con­tin­ues to pro­duce sav­ings every day for a lifetime.
To con­tinue to sup­port our cus­tomers, many who have been with us for over 40 years. Their equip­ment, used every day, still looks new and our cus­tomers love them."
"Qual­ity always pays"
BelKraft also has these com­pa­nies as well, which you prob­a­bly even heard about:
Water Fil­ter Canada, Cana­dian Water Fil­ter, and Water Prod­ucts Inc!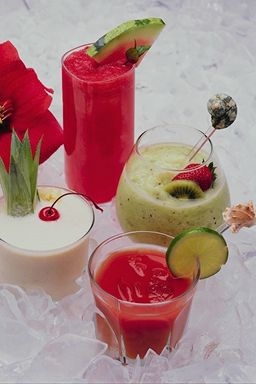 Water Prod­ucts Inc is designed to give peo­ple a free water fil­ter!! That is a very wel­come free­bie in my home for sure! How about yours?? Since Cool­Canucks is all about free, why don't you check this out for your­self and believe it with your own eyes!!
I had the absolute plea­sure of being able to review a won­der­ful Ger­man Muller 1.5 Quart Water­less Cook­ware Pot and cover, and was totally amazed with both it's styl­ish look and it's usage! They are of EXTREMELY HIGH qual­ity, and nor­mally retail for $300!! Wowsa — they ARE that great!!
About Water­less Cook­ware, a blurb from the BelKraft website:
"Whis­tle while you work! The Vacumatic sys­tem of cook­ing allows you to relax and do other things while cook­ing. When you hear the tone from the 'whis­tle vent' you sim­ply close the 'Vac-Controle' valve and turn off the heat. Your food will then cook auto­mat­i­cally off the heat in a vac­uum vapor. No more pot watch­ing or boil­ing dry. All of your vit­a­mins, min­er­als, fla­vor and color is pre­served only by cook­ing in a vac­uum vapor.
With built-in Fer­ritic steel and full wrap-around flame guards the cook­ware is ideal for Induc­tion and gas ranges."
I am totally sold on this fan­tas­tic cook­ware and need to order more and col­lect the entire set! This is the ulti­mate BEST cook­ware in the world in my hon­est opinion!!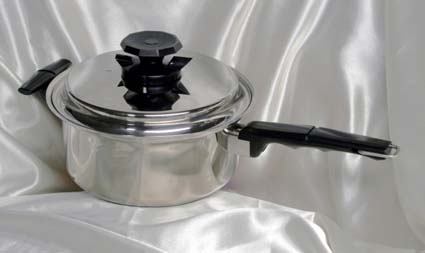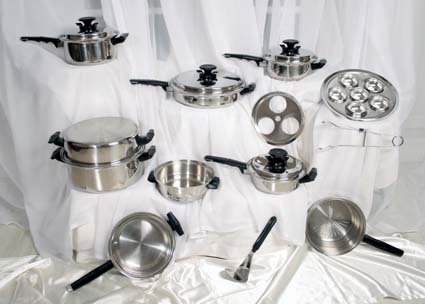 Now you get to try this out for your­self as the very kind and gen­er­ous folks over at BelKraft has offered to give one lucky Cool­Canucks reader the chance to win the EXACT same Ger­man Muller Water­less Cook­ware Pot that I was sent to review!! What an AMAZING prize, the one lucky win­ner will be so pleased!
To Enter!
1)  Head on over to BelKraft and tell me which product(s) you would love to have and WHY?!
2) You MUST ALSO SUBSCRIBE to Cool­Canucks Blog (right hand-side) via email! (You must ver­ify the sub­scrip­tion in your email too, as I will check! Not ver­i­fied = dis­qual­i­fi­ca­tion, sorry!) Leave me which email addy you sub­scribed with in your com­ment and SAY I SUBSCRIBED VIA EMAIL!
 
3) And thirdly for any entries to count, fol­low Cool­Canucks Via Google Friend Con­nect!! TELL ME THAT YOU FOLLOW COOLCANUCKS VIA GOOGLE FRIEND CONNECT IN A COMMENT! SORRY FOR THE CAPS, BUT ALOT OF PEOPLE DON'T KNOW HOW TO FOLLOW OR READ RULES AND I HAVE TO GET THEIR ATTENTION SOMEHOW!!!!!
******************If you don't do the top 3, then your com­ments will be DELETED, plain and simple************************************
 
————->The Above is MANDATORY before any extra entries count. <—————
EXTRA ENTRIES: (Optional, these are there for you just in case you would like more chances of winning!!)
Fol­low @coolcanucks on Twit­ter! Leave me your twit­ter name!
Tweet this con­test link­ing to @coolcanucks and BelKraft! Leave me the Sta­tus Link to your tweet! **NOW UNLIMITED TWEETS DAILY!!* and leave a com­ment each time with the Tweet Sta­tus Link** (Please note, there is a NEW Retweet but­ton added below this post – you may also use that for a quick and easy tweet – be sure to leave me the sta­tus link though!)
 Become a Reg­is­tered Cool­Canucks Mem­ber in our forum and leave me your user­name there!
Blog, Stum­ble, Digg or share this give­away on any open pub­lic forum and leave me the link to it! +5, leave 5 comments
Grab our Cool­Canucks but­ton located to the right of the blog. +5, leave 5 comments
 
Sub­scribe to Cool­Canucks RSS Feed! + 2 leave 2 comments
 
Refer a friend to Cool­Canucks Forum – do not sign your­self up and cheat, I can check IP's! Tell me who the refer­ral is, and earn 10 extra entries at once!
 
Pur­chase any­thing from BelKraft for the dura­tion of the give­away and get 10 extra entries!! Just tell me in a comment!
**Give­away open to both Canada & US and expires on May 2nd, 2010**
A HUGE thank you to BelKraft for spon­sor­ing us with this GREAT Con­test here at CoolCanucks!!
Con­grats to #22
22
Tags: 'free water filter', BelKraft, BelKraft German Muller Waterless Cookware Pot, BelKraft German Muller Waterless Cookware Pot Review & Giveaway, canada, canada contest, canada contests, canadian contest, canadian contests, Canadian giveaways, canadian online contests, contest, contests, contests canada, CoolCanucks Blog Contest, coolcanucks giveaway, enter, free canadian contests, free canadian giveaways, free filter service, German Muller, German Muller CookWare, online canadian contests, win, win canadian contests, win canadian prizes, win prizes, www.canadianwaterfilter.com, www.waterfiltercanada.com, www.waterproducts.ca