Posted on March 1st, 2010 by roxxyroller in Giveaways Canada.

I have always enjoyed dec­o­rat­ing my home, espe­cially with pieces I con­sider to be unique and one of a kind. I like for the decor I use to not only be warm and invit­ing, but also some­thing that rep­re­sents who I am and the things that are impor­tant to me. That is why I was beyond intrigued to learn more about Alpha­bet Pho­tog­ra­phy and all they have to offer!
Alpha­bet Pho­tog­ra­phy is the STUNNING work of Jen­nifer Blake­ley, inspired by a children's book called "Alpha­bet City" by Stephen T. John­son. Jen­nifer spent much of 2006 and 2007 trav­el­ing Canada to col­lect a gallery of pho­tos that look like let­ters of the Eng­lish Alpha­bet. All of the pho­tos are of objects found in their nat­ural sur­round­ings and are un-staged. After doing this for two years, and grow­ing the busi­ness, Alpha­bet Pho­tog­ra­phy is now a suc­cess­ful com­pany with a cus­tomer base from all over the world!!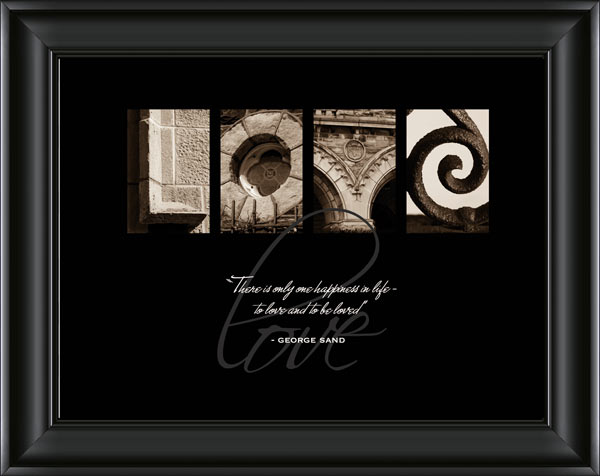 Alpha­bet Pho­tog­ra­phy cre­ates per­son­al­ized art­work from a mul­ti­tude of icono­graphic images.  They make beau­ti­ful gifts, that will be cher­ished for years to come. You can cre­ate any name, word or phrase to spell and become ele­gantly framed!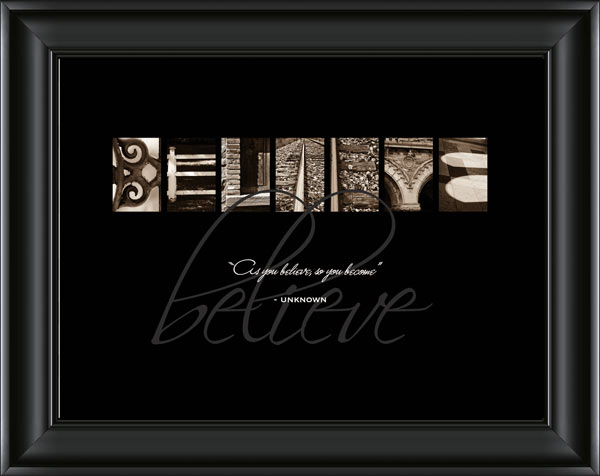 I was sent to review a breath­tak­ingly beau­ti­ful framed print of the Inspi­ra­tional Series — Fam­ily and was over­whelmed with hap­pi­ness to receive it!
•Printed on Pro­fes­sional Grade Crys­tal Archive Pho­to­graphic Paper, mounted on wood, framed with a black high qual­ity wood frame.
•Quote "A fam­ily is like fudge, mostly sweet with a few nuts" — Unknown
•15 x 13 inches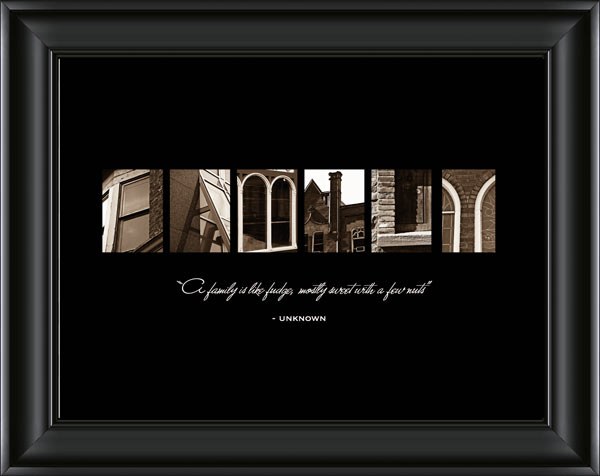 When my  pic­ture came in the mail it was extremely well pack­aged.  You can see the word "Fam­ily" in the pho­to­graph very well and it's cer­tainly a high qual­ity piece of wall art.  The pic­ture is black and white with shades of gray, and The fram­ing cre­ates an ele­ment of rich­ness. This ele­gant piece cer­tainly adds class to your walls!
A huge KUDOS to Alpha­bet Pho­tog­ra­phy for their gor­geous artwork!
Win it!!
The extremely kind and gen­er­ous folks over at Alpha­bet Pho­tog­ra­phy has offered to give one lucky Cool­Canucks reader the chance to win the EXACT Inspi­ra­tional Series — Fam­ily framed print just like I one I was sent to review!! You will love it as much as I do mine! It is so beautiful!!
To Enter:
*****Let me explain on how to enter here as alot of peo­ple are not fol­low­ing the rules, and their entries are sim­ply being deleted! I am sorry to say this but, if you can­not fol­low my rules here, then your com­ments are sim­ply deleted. It's not hard to do these 3 easy things!!*****
1)  Head on over to Alpha­bet Pho­tog­ra­phy and tell me what your favorite series is!
2) You MUST ALSO SUBSCRIBE to Cool­Canucks Blog (right hand-side) via email! (You must ver­ify the sub­scrip­tion in your email too, as I will check! Not ver­i­fied = dis­qual­i­fi­ca­tion, sorry!) Leave me which email addy you sub­scribed with in your com­ment and SAY I SUBSCRIBED VIA EMAIL!
 
3) And thirdly for any entries to count, fol­low Cool­Canucks Via Google Friend Con­nect!! TELL ME THAT YOU FOLLOW COOLCANUCKS VIA GOOGLE FRIEND CONNECT IN A COMMENT! SORRY FOR THE CAPS, BUT ALOT OF PEOPLE DON'T KNOW HOW TO FOLLOW OR READ RULES AND I HAVE TO GET THEIR ATTENTION SOMEHOW!!!!!
******************If you don't do the top 3, then your com­ments will be DELETED, plain and simple************************************
 
————->The Above is MANDATORY before any extra entries count. <—————
EXTRA ENTRIES: (Optional, these are there for you just in case you would like more chances of winning!!)
Fol­low @coolcanucks  and @AlphabetPhoto on Twit­ter! Leave me your twit­ter name!
Tweet this con­test link­ing to @coolcanucks  and @AlphabetPhoto! Leave me the Sta­tus Link to your tweet! *Do this ONLY MAXIMUM of ONCE a day, and leave a com­ment each time with the Tweet Sta­tus Link* (Please note, there is a NEW Retweet but­ton added below this post – you may also use that for a quick and easy tweet – be sure to leave me the sta­tus link though!)
 Become a Reg­is­tered Cool­Canucks Mem­ber in our forum and leave me your user­name there!
Blog, Stum­ble, Digg or share this give­away on any open pub­lic forum and leave me the link to it! +5, leave 5 comments
Grab our Cool­Canucks but­ton located to the right of the blog. +5, leave 5 comments
 
Sub­scribe to Cool­Canucks RSS Feed! + 2 leave 2 comments
 
Refer a friend to Cool­Canucks Forum – do not sign your­self up and cheat, I can check IP's! Tell me who the refer­ral is, and earn 10 extra entries at once!
 
Pur­chase any­thing from Alpha­bet Pho­tog­ra­phy for the dura­tion of the give­away and get 10 extra entries!! Just tell me in a comment!
**Give­away open to both Canada & US and expires on April 27th, 2010**
A HUGE thank you to Alpha­bet Pho­tog­ra­phy for spon­sor­ing us with this GREAT Con­test here at CoolCanucks!!
224
Eliz­a­beth Vlug
March 23rd, 2010 at 12:06 pm
http://twitter.com/Redlizzy1/status/10931899734
tweet
lizevlug@hotmail.com
Tags: Alphabet Photography, Alphabet Photography Review & Giveaway, canada, canada contest, canada contests, canadian contest, canadian contests, Canadian giveaways, canadian online contests, contest, contests, contests canada, CoolCanucks Blog Contest, coolcanucks giveaway, enter, free canadian contests, free canadian giveaways, online canadian contests, win, win canadian contests, win canadian prizes, win prizes