Posted on June 1st, 2010 by roxxyroller in Giveaways Canada.
Jane Doiron's cook­book serves up deli­cious recipes for make-ahead din­ners and help­ful meal prepa­ra­tion tips to save time and money and sim­plify fam­ily din­ners. I am excited to bring you a Cook­book that I know you are going to LOVE! Make-Ahead Meals for Busy Moms by Jane Doiron is one phe­nom­e­nal cook­book! Make-Ahead Meals for Busy Moms has 140 entic­ing recipes that are gonna keep you occu­pied and have you sit­ting down to a HOME COOKED HEALTHY meal!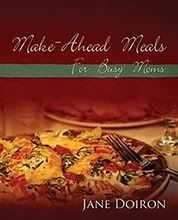 Make-Ahead Meals for Busy Moms Cook­book are healthy and eco­nom­i­cal alter­na­tives to take-out and preser­v­a­tive filled, pre-packaged foods. With make ahead meal plan­ning, you are mak­ing fewer trips to the gro­cery store, and sav­ing money oth­er­wise spent on unhealthy, take-out and fast foods. It's sim­ple. Give your­self a break dur­ing the hec­tic week­nights with Jane's make-ahead meal recipes. Spend the time that you save out­side of the kitchen doing some­thing that you enjoy!
Make Ahead Meals are:
• Sim­ple to pre­pare.
• Sim­ple to assem­ble ahead of sched­ule.
• Sim­ple to freeze ahead.
• Sim­ple for the whole fam­ily to enjoy.
Make-Ahead Meals for Busy Moms, writ­ten by Jane Doiron, is your solu­tion for sav­ing time in the kitchen. Not only does she offer ways to save time prep­ping and cook­ing your meals, but she also includes infor­ma­tion on freez­ing and reheat­ing meals. I don't know about you, but meals that I have frozen ahead of time have saved me more than once!
This book has given me a new insight on cook­ing and I am beyond thank­ful being able to review a copy.  What Jane Doiron does is give you a few options in order to help lighten up the cook­ing load.  Some recipes give you tips on how to shorten the cook­ing time by doing some of the prep work the night before, leav­ing min­i­mal work for the day of the meal. You are able to fully make them ahead of time and can freeze them for when you are ready to use them on those extremely hec­tic or just plain lazy days.
I give this excel­lent cook­book a HUGE thumbs up, and rec­om­mend this to every­one!! You can eas­ily pur­chase a copy or 10 extremely inex­pen­sively at Amazon.com and Barnesandnoble.com
Thanks to the very gen­er­ous Jane Doiron, one very lucky Cool­Canucks reader has the chance to win one copy of this great cook­book as well!!
To Enter:
Manda­tory Entry – ***This is a MUST!! Those who don't ful­fill the very first entry will be dis­qual­i­fied! Also, any com­ments such as 'enter me' or 'love to win' will be deleted.***
1) Head on over to Jane Doiron's web­site and check out this fan­tas­tic cook­book! Come back here and tell me why you just need to have this!
————->The Above is MANDATORY before any extra entries count. <—————
*****EXTRA ENTRIES: (Optional, these are there for you just in case you would like more chances of win­ning!!)********** Leave com­ments all in one com­ment box, or in sep­a­rate boxes, that is totally up to you! Note: All entries left in one box only counts as one entry so your choice!****************
•SUBSCRIBE to Cool­Canucks Blog (right hand-side of blog) via email. (You must ver­ify the sub­scrip­tion in your email too, as I will check! Not ver­i­fied = dis­qual­i­fi­ca­tion, sorry!) Leave me which email addy you sub­scribed with in your com­ment please.
•Fol­low Cool­Canucks Via Google Friend Con­nect – this is also on the right hand side of my blog.
•Fol­low @coolcanucks and @janedoiron on Twit­ter! Leave me your twit­ter name!
•Tweet this con­test. Leave me the Sta­tus Link to your tweet! **NOW UNLIMITED TWEETS DAILY!!* and leave a com­ment each time with the Tweet Sta­tus Link**
•(Please note, there is a NEW Retweet but­ton added below this post – you may also use that for a quick and easy tweet – be sure to leave me the sta­tus link though!)
•Fol­low Jane Doiron's blog! Leave a com­ment telling me that you do so please.
•Become a Fan of Make-Ahead Meals for Busy Moms on Face­book and leave a com­ment on their wall that you came from Cool­Canucks!
•Become a Reg­is­tered Cool­Canucks Mem­ber in our forum and leave me your user­name there!
•Blog, Stum­ble, Digg or share this give­away on any open pub­lic forum and leave me the link to it! +5, leave 5 comments
•Grab our Cool­Canucks but­ton located to the right of the blog. +5, leave 5 comments
 
•Sub­scribe to Cool­Canucks RSS Feed! + 2 leave 2 comments
 
•Pur­chase Make-Ahead Meals for Busy Moms for the dura­tion of the give­away and get 10 extra entries!! Just tell me in a comment!
**Give­away open to US & CANADA and expires on July 1st, 2010**
A HUGE thank you to Jane Doiron for spon­sor­ing us with this GREAT Con­test here at CoolCanucks!!
Redraw win­ner — no reply from first winner!
88
Sonja
June 10th, 2010 at 9:06 pm 
I would love this cook­book as I have no time to get din­ner ready and love the idea of home-cooked, healthy meals as opposed to take-out and preser­v­a­tive filled, pre-packaged foods.
Tags: canada, canada contest, canada contests, canadian contest, canadian contests, Canadian giveaways, canadian online contests, contest, contests, contests canada, CoolCanucks Blog Contest, CoolCanucks Blog Contest – Make-Ahead Meals for Busy Moms Cookbook Review & Giveaway, coolcanucks giveaway, dessert, easy recipes, enter, favorite appetizer, flavorful appetizers, free canadian contests, free canadian giveaways, home cooked meal recipes, Jane Doiron, luscious desserts, main dish, make ahead meals, Make-Ahead Meals for Busy Moms, Make-Ahead Meals for Busy Moms Cookbook, Make-Ahead Meals for Busy Moms Cookbook Review & Giveaway, online canadian contests, win, win canadian contests, win canadian prizes, win prizes