Posted on July 9th, 2010 by roxxyroller in Giveaways Canada.
"Beija-Flor Nat­u­rals is a vegan/vegetarian com­pany that car­ries organic and fair trade prod­ucts when­ever pos­si­ble. Our prod­ucts are free of harm­ful petro­chem­i­cals, parabens, ani­mal bi-products, and arti­fi­cial col­ors. The con­tents of each con­tainer is hand­made with love in Cal­i­for­nia, cus­tomized and made to order."
Beija-Flor Nat­u­rals pro­vides nutri­tious body treats that pro­mote healthy glow­ing skin and hair.  Beija Flor Nat­u­rals includes the best vegan/organic ingre­di­ents on earth, From the Ama­zon rain for­est to the Savanahs of East Africa.
Beija Flor Nat­u­rals pam­per all skin types but are espe­cially good for dry, sen­si­tive, and aging skin. Beija Flor Nat­u­rals pre­mium Brazil­ian ingre­di­ents such as cupuacu, muru­muru, tucuma, acai and pas­sion fruit oils. We are also a great provider of raw organic shea butter.
After stum­bling across this great site on the inter­net, I was ecsta­tic when they agreed to do a review and give­away with us here at Cool­Canucks!! They sent me two won­der­ful prod­ucts to review, the Honey But­ter Scrub as well as the Cocoa Mango But­ter­cream! Both are phe­nom­e­nal prod­ucts and smell just Heav­enly! I love that their prod­ucts are vegan, veg­e­tar­ian and organic.  They fol­low FDA stan­dards and are made from raw veg­etable based ingre­di­ents.  Plus they are kind to your body & your pocket book!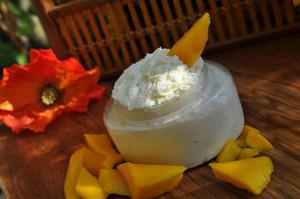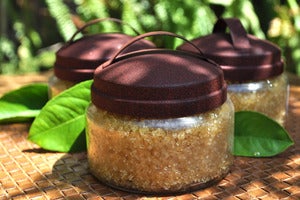 Beija-Flor is one of those com­pa­nies that you just have to love. "Beija-Flor Nat­u­rals is a vegan/vegetarian body­care line with lux­u­ri­ous treats that pro­mote healthy skin and hair. For years, the Beija-Flor Nat­u­rals mix­tress has exper­i­mented with nat­ural health and beauty reme­dies as an alter­na­tive to main­stream products."
You can pur­chase an exten­sive array of these amaz­ing prod­ucts directly from the Beija-Flor Nat­u­rals web­site by click­ing here, or visit them on Etsy! These prod­ucts are that GREAT, and I totally rec­om­mend them to everyone!!
Thanks to the very kind and gen­er­ous folks over at Beija-Flor Nat­u­rals, one very lucky Cool­Canucks reader has the chance to win both of these great prod­ucts that I was sent to review!! SWEET! You will be just as impressed with them as I am — be assured!!
To Enter:
Manda­tory Entry – ***This is a MUST!! Those who don't ful­fill the very first entry will be dis­qual­i­fied! Also, any com­ments such as 'enter me' or 'love to win' will be deleted.***
1) YOU MUST!! Head on over to Beija-Flor Nat­u­rals and check out all of their great cut­ters! Please let us know what you like best over there!
————->The Above is MANDATORY before any extra entries count. <—————
*****EXTRA ENTRIES: (Optional, these are there for you just in case you would like more chances of win­ning!!)********** Leave com­ments all in one com­ment box, or in sep­a­rate boxes, that is totally up to you! Note: All entries left in one box only counts as one entry so your choice!****************
SUBSCRIBE to Cool­Canucks Blog (right hand-side of blog) via email. (You must ver­ify the sub­scrip­tion in your email too, as I will check! Not ver­i­fied = dis­qual­i­fi­ca­tion, sorry!) Leave me which email addy you sub­scribed with in your com­ment please.
Fol­low Cool­Canucks Via Google Friend Con­nect – this is also on the right hand side of my blog.
Fol­low @coolcanucks and @CaliBeijaFlor on Twit­ter! Leave me your twit­ter name!
Tweet this con­test! Leave me the Sta­tus Link to your tweet! *NOW UNLIMITED TWEETS DAILY!!* and leave a com­ment each time with the Tweet Sta­tus Link*
(Please note, there is a NEW Retweet but­ton added below this post – you may also use that for a quick and easy tweet – be sure to leave me the sta­tus link though!)
NEW!! Become a Fan of Cool­Canucks on our Face­book Page! 2 entries, leave 2 com­ments! Leave me your FB name please!
Become a Reg­is­tered Cool­Canucks Mem­ber in our forum and leave me your user­name there!
Blog, Stum­ble, Digg or share this give­away on any open pub­lic forum and leave me the link to it! +5, leave 5 comments
Grab our Cool­Canucks but­ton located to the right of the blog. +5, leave 5 comments
 
Sub­scribe to Cool­Canucks RSS Feed! + 2 leave 2 comments
 
Pur­chase from Beija-Flor Nat­u­rals for the dura­tion of the give­away and get 10 extra entries!! Just tell me in a comment!
**Give­away open to both US & Canada and expires on August 11th, 2010**
A HUGE thank you to Beija-Flor Nat­u­rals for spon­sor­ing us with this GREAT Con­test here at CoolCanucks!!
449
Lisa D'Ugo
August 7th, 2010 at 5:54 pm 
I like cool canucks on face­book #1: Lisa Dugo
Tags: acai, acai anti-aging, Beija-Flor Naturals, Beija-Flor Naturals LLC Bodycare and Skincare Review & Giveaway, body buttercream, bodycare, brazilian anti-aging, Butter, california natural bodycare, canada, canada contest, canada contests, canadian contest, canadian contests, Canadian giveaways, canadian online contests, Cocoa Mango Buttercream, contest, contests, contests canada, CoolCanucks Blog Contest, CoolCanucks Blog Contest – Beija-Flor Naturals LLC Bodycare and Skincare Review & Giveaway, coolcanucks giveaway, cupuacu, cupuacu butter, curly hair, enter, free canadian contests, free canadian giveaways, Glowing Skin, hemp butter, Honey Butter Scrub, murumuru, murumuru butter, Natural Bodycare, online canadian contests, organic and fair trade products, Organic Bodycare, Organic Ingredients, Organic Shea Butter, Passion Fruit, passion fruit oils, Raw Organic, Shampoo Bars, Skincare, Soap, tucuma, vegetarian company, win, win canadian contests, win canadian prizes, win prizes