Posted on February 17th, 2012 by roxxyroller in Free Coupons Canada Samples Canadian Free stuff.
Being a HUGE dog lover, I often lay back think­ing of all of the dogs in this world that I could save and adopt. I am a firm believer of spay­ing and neu­ter­ing, because the world pet pop­u­la­tion is absolutely crazy! Dogs are often left out­side wan­der­ing and try­ing to fend for them­selves, (with their bones lit­er­ally pok­ing out of their frail lit­tle bod­ies) won­der­ing where their next mor­cel of food is going to come from.
Dis­gust­ing eh?
Ani­mal abuse and neglect tears me up inside, and I often cry just think­ing about it. Why? I'm not sure, but my love for pets is that huge. While dogs are my absolute favorite, I feel for all ani­mals period, and do not want to see any help­less ani­mal suffer!
A friend of mine now lives in Ari­zona, and con­sid­ers her­self an ani­mal activist. She takes in strays daily, and does what she can to bring them back to good health.
Let me tell you a very sick­en­ing story that hap­pened just a few years ago. I fol­lowed this story very care­fully, and it hon­estly ripped me to shreds! This is exactly why I often dis­like the human race! No offence to my friends, because I know my true friends would never harm any­thing, not even a fly!
Here is the very sad sorry of three Amer­i­can Pit Bull Ter­ri­ers named Faith, Hope, and Charity:
Molested Puppies…in care of Eagles Den Rescue
FAITH, HOPE & CHARITY, these three pup­pies sodom­ized by a human!
Hi,
My name is Char­ity. My life began about 6 months ago. I was one of a lit­ter of sev­eral and knew noth­ing of the world or the peo­ple in it. I knew my mother and warmth and hunger. I knew one day some­thing was wrong when I was ripped from my mother with two of my sisters.
We were hurt in ways we did not under­stand and could not make sense of what was wanted or expected of us. You see, we were born Amer­i­can Pit Bull Ter­ri­ers and those who may not under­stand; we are a very loyal breed. We want only to please those who feed and care for us.
Ide­ally, we would be nur­tured and our sharp instincts used for won­der­ful things, like res­cu­ing small chil­dren who have wan­dered away from a camp­ground, or tun­nel­ing through debris at a World Trade Cen­ter when bad men do hor­rid things.But I was born into a world that does not under­stand us. The most dec­o­rated Army dog ever was my kind, and now… well… now they want to kill us all I understand.
I am not so sure what it is that makes peo­ple hate us so. I know we grow into dogs with a pow­er­ful bite and we can do a lot of dam­age. But, basi­cally, we will do what it is we are trained to do. If we are with a kind per­son, and we learn kind­ness from an early age, we can be the best friends ever. Some of us have an instinct that makes us what is called ani­mal aggres­sive, and I know that is not such a good thing when we need to get along in a fam­ily. I was never aggres­sive. I never harmed any­one or any­thing… and nei­ther did my two sis­ters, Faith and Hope. But because of what we are, bad peo­ple like to take us and make us do bad things. And those bad peo­ple make a lot of other humans hate us for what we are trained to do. But that is another story, sort of… though that story is the rea­son why things hap­pened to us as they did.
Our birth was brought about by one of those bad peo­ple with bad inten­tions. And the more peo­ple hate us, the more those bad peo­ple want us and the worse they treat us. And it is ok because we are just "Pit Bulls" and "Dumb Dogs." They do not seem to under­stand that we feel pain, we feel when some­one hates us, and we do not want to be hurt. So … that is the world we were born into, but we did not under­stand all of that then. We just under­stood we had been ripped from our mother; we could not eat because we had no teeth; and, worse … the man who bred us had a teenage son that was doing really bad things to us.
I later learned that it was called sex­ual molesta­tion, sodomy, or bes­tial­ity. I just knew that it hurt and I could hear my sis­ters cry­ing when he would hurt them. Faith was so small and I tried really hard to pro­tect her. I can­not tell you how many times this hap­pened, though it could not have been many or we would not have lived. But it was enough to hurt us. One day the boy was seen hurt­ing us and his father saw what was hap­pen­ing too. He rushed us to this place called the County Ani­mal Shelter.
I think we were sup­posed to be killed there and no one would ever ques­tion what hap­pened, because most "Pits" that go into a place like that do not come out alive. But this was a good place with peo­ple who did care.The man told them the big dog down the road had "got­ten to us." I guess they fig­ured that is how we got all those bite marks all over our bod­ies where the other dogs were allowed to hurt us. But they noticed there that we were very, very still, hud­dled together … and we would not eat.
I was very wor­ried about my sis­ters. And they seemed to look to me. Then this woman and man came and got us and took us to a place called The Eagle's Den.
After that, things changed.They call it res­cue, and I am glad we were res­cued. I wish all of my kind could be because it gives us a chance. But… any­way… we saw a vet and he sort of guessed at what had hap­pened to us. But the man was not pun­ished, nor his son. All I know is there is some­thing called an inves­ti­ga­tion into all those bad peo­ple and they really want to catch them all. They should. And I hope one day there will be some jus­tice for me and my sisters.
But the peo­ple will have to work that out because well… we are just dogs.And our story has not ended. Well, mine has, at least there where it hurt every time I went to the bath­room, but where life was so good I did not let on that I was hurting.
You see, one day I just felt funny and then I went to sleep. I can remem­ber wet tears on my face as the man and woman held me and I knew they were going to try and save me again. But I was just so tired. After hav­ing been in pain for so long and know­ing my sis­ters were I just went to sleep and came to a place called Rain­bow Bridge. It is very nice here. I have a lot of friends here. There are all kinds of dogs and many of my kind, many that were hurt like I was, and killed.And I can watch over Faith and Hope here.
They have had surgery now to help them. After I came here every­one knew we were not alright. We were ram­bunc­tious pups, yes. And we were scared pups because of all we went through. All we really wanted was a friend and to play and be happy. I am root­ing for Faith and Hope now and I watch over them from here. They had the surgery they needed to fix the pain. They may not under­stand the pain they are in right now, but it will get bet­ter now.
There are a lot of peo­ple upset because of what hap­pened to us. And I am very glad they are upset. If I could tell them any­thing that would help: make it stop; but not just this man. Make it all stop. Get the peo­ple who make laws to write some that will pro­tect us. What hap­pened to us is against the law. That is a fact. But there are no fed­eral laws to help us, and they get away with it time and again.
Any­one who wants to see how often this hap­pens, just type the word Canine sex­ual molesta­tion into your com­put­ers and look. But you only see the cases that get reported. And not much hap­pens in those cases.
Even when they kill us, not much hap­pens. So if you want to help, if you want it to stop … there is only one way. Make it ille­gal all over the United States. Make uni­form laws so that all ani­mal abuse car­ries manda­tory sen­tences. Other coun­tries pro­tect their com­pan­ion ani­mals. If you guys who have prayed so hard and whose love I feel so strongly want to help … make it stop. Make them hear you. They have never heard us.
Faith's surgery went really well, even though she was the sick­est. Hope had hers today and she is doing ok now. Iron­i­cally, Hope may have already been here at Rain­bow Bridge, but some of the abuse actu­ally saved her. When they did her surgery, they found a piece of metal in her intestines, sur­rounded by flesh. It was block­ing a tear. They had to cut off a lot more of her intestines than they did Faith's, but she will be ok now … I HOPE. That piece of metal stopped poi­son from spilling into her body at least, even though it did dam­age, it helped her to stay alive long enough to get the surgery to save her life.
I am watch­ing, and I am hop­ing this will make peo­ple wake up and real­ize what goes on with us when we are bred for all the wrong rea­sons. I hope peo­ple will stop pun­ish­ing our breed for what these peo­ple do and real­ize what we go through. I wish they all could be res­cued. I wish there was no rea­son to rescue.There is one more thing I have seen since I came to Rain­bow Bridge.
All of you are very car­ing and good peo­ple. My sis­ters were able to have their surgery because peo­ple cared enough to help them live. They have a long way to go, but thank you for help­ing them.I'll be watch­ing… and one day I will see all of you here at the Bridge; because I am everyone's dog who had a part in sav­ing my sisters.
Thank You.
CHARITY
Update: The surg­eries are over and Faith and Hope are doing won­der­ful. They will be com­ing home to be mon­i­tored by our local vet. This makes far more sense, and though it really scared me at first, I real­ize I will be scared whenever…after what hap­pened with Char­ity. The hos­pi­tal they are in is extremely expen­sive, and the vet told me that with them doing this well, he thinks the after­care would best be mon­i­tored here, where they can be with the fam­ily they have always known.
Now we get to pay the bill. The ini­tial surgery, with a huge dis­count for a rescue…was $5000, and the cost has been about $250 a day for their after­care. We are aware that we did get a huge break on the bill when we hear oth­ers at the hos­pi­tal talk­ing about the cost of their pet's surgery there. We would have done the surgery with­out the dis­count, but hav­ing it helped. It also allowed us to keep the two there for the 7 days of aftercare.
We appre­ci­ate all of your prayers and the con­cerns and well wishes we have received. This is the next log­i­cal step, and we are excited about it.
If you would like to help cover the cost of the surgery and aftercare:
eaglesdenrescue1.chipin.com/in-memory-of-charity
Or if you would pre­fer to make a dona­tion via Pay Pal, all dona­tions are tax deductable and go 100% to the ani­mals we care for.
Con­tri­bu­tions can also be made directly to our vet at
910–739-9411
Thank you… and we hope we will have your sup­port as we work on "Charity's Law." A bill that will hope­full make ani­mal abuse a felony.
Please share the story of these three!
I ask myself over and over the ques­tion of why? Why would any­one want to hurt help­less ani­mals? What went so wrong in their piti­ful lives that they feel the need to retal­i­ate and hurt an ani­mal? These peo­ple should be shot! Harsh enough for me? Nope! Keep them alive and tor­ture them every minute of the day and let them feel what it's like to be sodom­ized and tor­tured those SOB'S!!
Or let's deal out another bru­tal story of ani­mal abuse? Per­haps one does not care to read this, but I don't care. This abuse can­not be ignored! It needs to be out there and in the open for all to see and at least give an attempt at stop­ping this now! I am pretty sure that no one read­ing this is obliv­i­ous to the fact that ani­mal tor­ture and abuse is real, you know it hap­pens but don't hear about it as nearly as much as it actu­ally occurs!
Meet Lacey:
Lacey was teth­ered to a tree at her jack­ass own­ers home in south­west Bak­ers­field. He hit her in the mouth with a golf club and sprayed bleach in her eyes! Why is there no laws for these idiots to pay SEVERE con­se­quences just like an adult faces with cases of mur­der or manslaugh­ter?? I am going out of my mind mostly every­day read­ing more and more sto­ries of hor­rific ani­mal abuse!! This needs to be stopped right now! Not tomor­row, not next week, BUT NOW!!!!!
Meet Louis: (Cour­tesy of CFAWR which stands for Cana­di­ans for Ani­mal Wel­fare Reform)
Louis who was con­sis­tently chained up was beaten, sprayed with lighter fluid and set alight by Juan Daniels. This was his mother's dog. Daniels did this because he was not allowed to bor­row the family's car. Louis attended his abusers sen­tenc­ing and he has now been adopted out to a lov­ing home. WTF!!!!!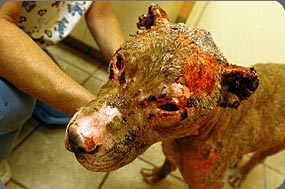 This is so dis­heart­en­ing to me, I am speech­less! Why?? Why????? This does not only hap­pen to dogs either. Pets of all kinds fall vic­tim to these evil ani­mal haters hands! Dogs, cats, rab­bits, birds, you name it! Damn those abusers!!
Here is one last story of ani­mal abuse out of the cazil­lions that I have pre­vi­ously read also cour­tesy of CFAWR:
Dubbed the Kit­ten Killer of Hang Zhou China this woman was filmed play­ing with this kit­ten then crush­ing it to death with her shoes. She has been iden­ti­fied but under China laws, she has done noth­ing ille­gal! Face­book ani­mal lovers iden­ti­fied her and her loca­tion from back­ground scenery etc and have ensured her name was made very pub­lic. She has since resigned from her job and now lives in hid­ing. (Which is good, because if I ever got a hold of her .….. !!!!!)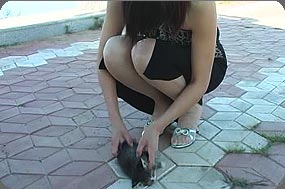 My blood hon­estly boils when it comes to these sit­u­a­tions, and it is no dif­fer­ent than even a child get­ting abused! You would call the author­i­ties if you either saw or heard of an inno­cent lit­tle child get­ting abused, wouldn't you? Well please do the same if you have either seen or have heard of any animal(s) being abused. I can­not take much more of this. How one per­son can harm another liv­ing thing is beyond me, but there are obvi­ously a lot of sick ba$tards in this world, aren't there?
I am cry­ing out for help today on behalf of all of the abused, neglected, and tor­tured ani­mals out there, since they can­not do it for them­selves. Please do not turn a blind eye on this, by sav­ing just one ani­mal in this world can make a huge dif­fer­ence! Let's pull together and stop this insan­ity here and now!! Will you jump on board with me?
Tags: Abuse, Animal Abuse, Animal Neglect, Animal Neglect and Abuse